Allistair is working in a quarry which is located within a 55k acre marathon cattle station in the North West of Queensland. Much of the kit had to make its way across a section of the Flinders river, which is bone dry for the rest of the year, but the crossing took place at the beginning of the wet season. Here we see M & G Crushing's machines approaching the river.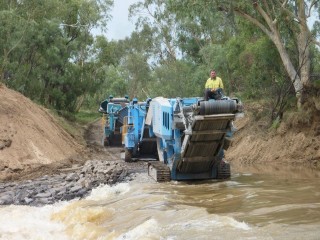 As one is never sure about what could be lurking in the rivers in remote locations, it's often a good idea to adopt novel ways to move personnel across the water, like in this example sat in a bucket on the end of a Cat 330!
Most of the excavation and shifting equipment is from the Caterpillar stable, and comprise of a 330D and an older 330B hydraulic excavators. A further Cat 320 machine is deployed with a hammer to break up over sized rocks prior to crushing. This stunning blue sky shot shows the D series machine.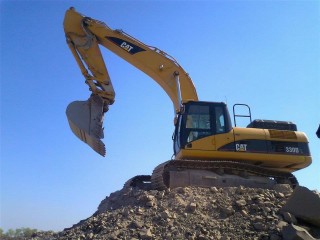 Allistair has been spending some of the time in one of the 330's, loading a Caterpillar 735 articulated dumptruck with rock down in the quarry. In this shot we are in the cab with Allistair, as another load is about to head for the crusher.
It's not always plain sailing at the tipping area though, as some of the larger rocks can sometimes become wedged in the tail gate arrangement of the 735, a little job for the 320 and its hammer I suspect!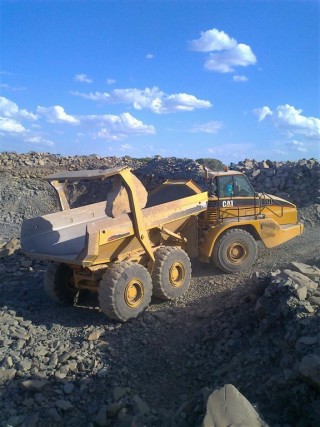 Meanwhile at the tipping point, crushing is in full swing with another Cat 330 feeding a Pegson XA400 primary crusher, followed by a 1300 secondary crusher; material is then put through a Powerscreen 2100 screener.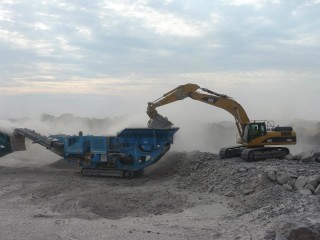 The process is completed using a Pegson 1000, which makes aggregate and roadbase, for use on local road projects. The finished products are loaded by Cat 966 and 972 wheeled loaders and hauled out from the quarry area by the legendary 4 trailer road trains which gross at over 130 tons!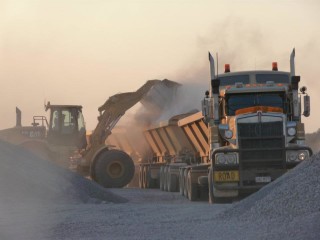 Another machine worthy of a mention is this well cared for classic Caterpillar D7 dozer, fitted with the very distinctive roll-over canopy/sun shade arrangement.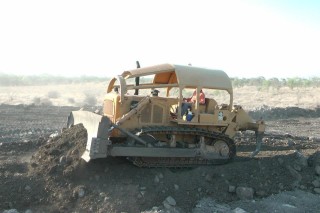 Also on the dozer front is this rather poorly shod Cat D9L which is fitted with a roaring V12 engine, and has no working air-con, so it has to be used with the doors wide open. Ear plugs at the ready I would suggest!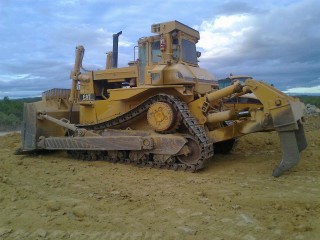 We would like to thank Allistair for sharing the photos of his latest adventure down under, and look forward to more instalments in the New Year.