Spider excavators, as they are often generically known, are simply awesome machines to watch in the hands of a highly skilled operator. Regular Digger Blog readers will probably recall a number of posts in the past featuring these amazingly acrobatic machines performing all manner of climbing stunts, and also posts of the machine's owned by Californian Menzi Muck owner Donald Halvorsen at work on some extreme hillside locations. Whilst stopping by the Menzi Muck stand in Munich three years ago, I saw in person just how agile these machines can be, as the demonstration operator clambered up and down a specially constructed log themed ramp.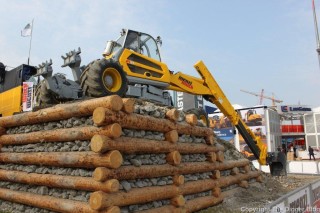 The news that Exc@v8 has been appointed as a Menzi Muck dealer is exciting stuff indeed, as we don't see many of these machines in the United Kingdom at present, although there is at least one user in Scotland. Exc@v8 – Total Plant Solutions is a multi faceted business providing plant hire, contracting and earthmoving. Excavation projects include lagoon and lake construction, including all land drainage works. The company also provides machinery maintenance and repair services, as well as selling the Fuchs range of oils and lubricants, enabling the business to be a one stop shop. The addition of the Menzi Muck sales division further enhances the company's portfolio.
In this video from the Bauma 2010, we see the Menzi Muck A91 being put through its paces on the stand in Munich. Rumour has it, there will be even more exciting new products to see on the stand this coming April, I for one will be calling in on the stand to see for myself!

The Digger Blog will be keeping a keen eye on developments of this latest dealership.