The Michigan Power Shovel company was acquired by the Clark Equipment Company in 1953. After the takeover, three new models were launched in 1954, these being the 75A, 125A and 175A, which were all rigid frame designs. Most of the photos here in the Digger Blog archives feature the articulated models which were first introduced in 1965.
These first two photos show one of the company's popular 75B models in action. Of particular interest to our British readers will be this second shot, showing one of Chertsey Plant Hires machines in action loading a classic Bedford KM lorry, which I am reliably informed by regular Digger Blog reader and lorry aficionado Steve Rush, was a heavy duty version of the good old Bedford TK.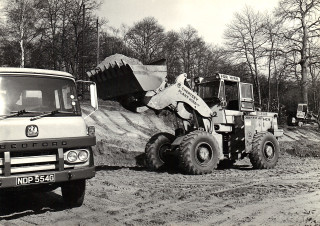 Going up in size now with this example of a 6.5 cubic yard, 324hp, 275 model.
Up the size scale we go again, with this offering, the Michigan 475-III-A model. Introduced around 1965 this 12 cubic yard loader, with an operating weight of some 60 tons, was powered by 635 horsepower Detroit Diesel engine.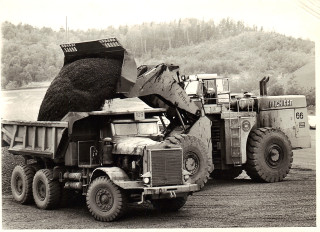 Those that thought the 475 was a monster loader, were in for a shock when in 1973 Michigan launched the massive 675, which was to carry a bucket that was twice the size of the 475 at 24 cubic yards! This giant 190 ton machine was powered by twin Cummins engines which produced an output of 1,270 horsepower.
The production run for these machines was relatively short, the model being discontinued in 1976 and only 14 of them being manufactured. Would be really interesting to find out if any of those have survived and if so where they are now lying?

I used to encounter a couple of Michigan shovels during the early 70's when I was accompanying my late father to work on the M27 South Coast Motorway, these shovels were owned by John Laing's and were primarily used to feed the concrete batching plant. In this photo we see my Father pushing a large lump of concrete into the bucket of the Michigan with his JCB 3CII.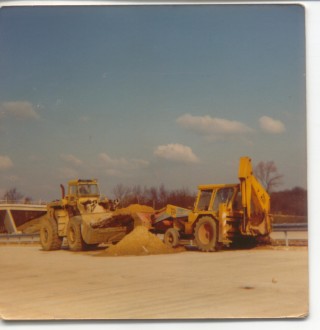 To round off here is a really interesting vintage promotional film about Clark Michigan loaders.