Mike Attwell, from Moretonhampstead in Devon, was born in 1951 and now at the age of 60, he is still putting his experienced skills and knowledge of machine operating to good use on a daily basis. Mikes career as a plant operator began in 1968 when he was serving in the Royal Engineers, during that period in his life, he got to operate a whole host of machines, his first one being a military Hymac 580BT. Mike also spent time on a Vickers Vigor dozer as seen here in this classic old photo.
Some years later Mike worked on motorway & major road jobs up and down the country including the Exeter section of the M5 , the M4 in Wales, the M11 & A45 in Cambridge and roads in the Portsmouth area to name a few. During this time Mike spent years operating Priestman Mustang 120's, Mike said "I liked the Mustang 120's there were relatively reliable and didn't give us too much trouble, they were also robust and easy to maintain too". In this poor quality Polaroid photo we see Mike sat in the cab of a 120 with his daughter sat on his lap, Mike also commented "those were the days, we could never get away with that now"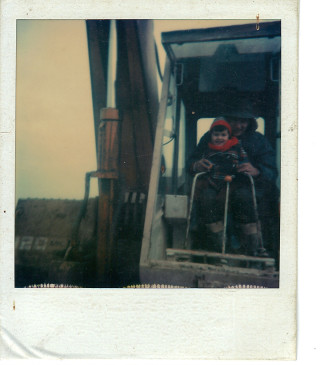 As new products came out, Mike later progressed onto the Priestman Mustang 160 working on sites in Portland, Dorset and further sections of the M4 in Wales. The Mustang 160 was a big step forward in terms of operator comfort with the new servo assisted controls and Rexroth hydraulics, but as far as Mike was concerned, he felt the machine lacked development and sadly breakdowns came thick and fast.
Mike then spent time on one of the early Caterpillar 225 machines on sites in Portland and Bexhill on Sea, Mike described the early Cats as being very fast for their time, but very brittle, referring to the fact that booms and arms were prone to cracking, Mike also found them to be uncomfortable to operate.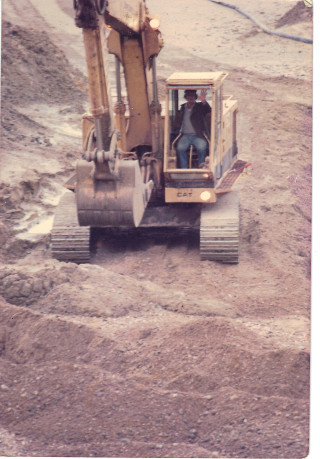 Mike then moved on to operate Akerman H14 machines working at Burham on Sea and Avonmouth near Bristol, Mike still describes the Akerman as the "Rolls Royce" of hydraulic excavators.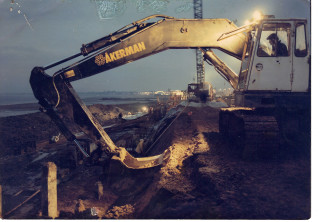 Mike said " The Akermans were well ahead of their time and many of the machines features were copied by the Japanese, those machines had it all, float function, power boost button on lever, adjustable floor pedals, huge power but extremely quiet, superior comfort and quick fit option even back then"
Mike has spent more recent years operating for a civil engineering company based in Newton Abbott in Devon, primarily on JCB hydraulic excavators, but is currently operating a Doosan DX140LC for Cornwall based MJL Contractors.
Mike's summary of the industry today is that we are all becoming mired in the bog of health & safety legislation, which as we all sadly know, is driving many people out of our game.
The Digger Blog would like to thank Mike for sharing his memories and photos with us.