One of the leading producers of heavy transportation machinery is TII Group – Transporter Industry International – created by Otto Rettenmaier by bringing together the German companies Scheuerle Fahrzeugfabrik and Kamag Transporttechnik, and Nicolas Industries of France.
Companies like TII make it possible to move loads weighing up to 20,000 tonnes. Scheuerle, founded in 1869, is credited with introducing the use of hydraulic axles in series and thus giving birth to the modern heavy transportation industry.
Here's a snapshot of some of TII's machinery.
Among the Nicolas product range are reel carriers (below), which are used to transport cable reels up to 500-tonnes for the offshore industry. Despite their huge dimensions, they have to be able to position the load very precisely and have to be easy to operate. Electronic steering allows different programs of load moving. The Reel Carrier can be adapted to every purpose and customized as wanted.
According to the Guinness Book of World Records, the Tractomas TR 10x10, developed and produced by Nicolas, has the highest tractive force of any vehicle in the world. It can pull trailers and semi-trailers and has been in use for decades in different countries and different versions. Its thrust can be increased still further by adding the PowerBooster auxiliary drive system. This is used to maintain momentum when going uphill. If needed, the PowerBooster cuts in automatically and provides sufficient driving force. An additional advantage is the improved cooling performance through the PowerBooster, which has proved handy in desert climates.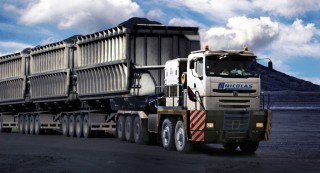 You might not want to be stuck behind a Tractomas on the A303, but at least you'd have something other than Stonehenge to admire.
The 82-tonne Kamag Slag Pot Transporter (below) is 11.9m long, 7.7m wide, 4.3m high. It can transport payloads of molten steel weighing up to 130 tonnes. The Slag Pot Transporterr is driven by a Caterpillar C15 diesel engine with 403 kW (548 hp) at 2100 rpm along with an Allison Series 4,000 transmission unit. The single-axle prime mover pulls a 5.8m long and 4.35m high slag pot – with a capacity of 45 m³.

Both Scheuerle and Kamag make special transporters for moving either ship sections or complete ships. Loads of up to 1,000 tons can be moved with only one vehicle. By combining several vehicles to form a larger unit, extreme loads of 5,000 tonnes and more can be transported. The hydraulic system allows accurate positioning and powerful lifting.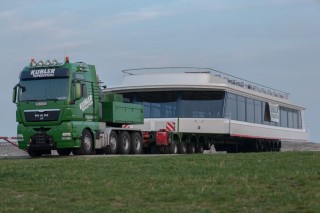 Scheuerle InterCombi axle lines were recently in action to move a passenger overland across Germany (above). The upper deck was made in Magdeburg while the hull was produced in Dresden. Special transport contractor Kübler had the job of bringing the two parts to their final destination on the Markkleeberg lake in Saxony. The 35-tonne upper deck was moved on 10 axle lines, and 11 Scheuerle InterCombi axle lines were required for the165-tonne hull. InterCombi platform trailers have a modular design based on 2-, 3-, 4-, 5-, 6-, 7- and 8-axle platform trailers, which can be coupled longitudinally and transversely.
The Scheuerle Non-Cassette Carrier (below) not only moves stacks of steel plate without requiring any pallets, but can also be used in combination with a transport ship as part of a roll-on roll-off operation. It has 24 steered axles, 48 tyres and is 25m long. The design is based on a ladder-type frame which is combined with the hydraulic pendulum axles and 14 integrated lifting forks. So that it can also accommodate the required payload of 250 tonnes, if this does not cover the entire length of the vehicle, each individual fork has been designed to handle 30 tonnes of load. The vehicle is powered by the 338 kW MAN six-cylinder engine that Scheuerle also uses in the power packs of its InterCombi SP trailers. A camera and radar system helps the driver safely manoeuvre the vehicle.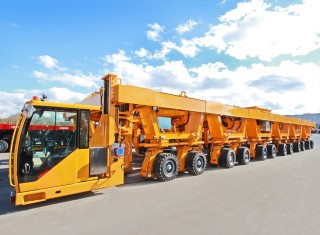 Another curious special-purpose vehicle is Scheuerle's Antenna Transporter ESO. This machine is 20m long, 10m wide, 6m high and weighs 130 tonnes. It has been used to deliver radio telescopes to the Llano de Chajnantor site in the Atacama Desert of northern Chile. At this research station are 66 radio telescopes positioned around a 15km by 15km area, acting in concert to make them 10-times more accurate than the Hubble space telescope.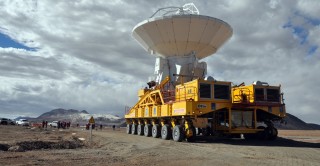 The special task for the transporter is to ensure the exact positioning of the radio telescopes on their respective foundations. Hydrostatic drive guarantees accurate placing of the radio telescopes down to the nearest millimetre. At the same time, the electronically regulated all-wheel steering system supports precise manoeuvring operations to lift the sensitive antennas from the foundations or re-position them using specially-developed pick-up equipment, which functions similar to that of an inclined elevator. The loads being transported are rather expensive and the terrain is not always the smoothest. Therefore both the drive system and brakes must be up to scratch.