In a breakers yard, Michael spotted the sad looking back end of an old Caterpillar 657B motor scraper. The 657 is the largest twin engine scraper in the Caterpillar line up, excluding the huge 666B, that featured a 54 cubic yard heaped bowl capacity, which was discontinued in the late 1970's. Back in the day, the 657B model was powered by a 550hp (410kw) engine in the tractor unit, and a 400hp (298kw) engine in the scraper end. The machine was capable of carrying a 43.9 cubic yard (33.6m3) heaped bowl of material.
Here's a brand new Caterpillar 994H wheeled loader, awaiting delivery in the local Caterpillar dealerships yard. The largest wheeled loader in the Cat range, is powered by a 1,577hp (1,176kw) engine. It is capable of carrying buckets ranging from 18.6 – 47 cubic yard (14 – 36m3).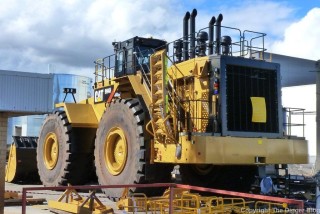 At the same venue a batch of dozers, including this Cat D7R-2, which is dwarfed by a couple of un-cabbed Cat D11T's to the right.

A couple of Komatsu machines now, in the shape of a rusty looking WA800 with its bucket resting in the butt of a 730 dumptruck.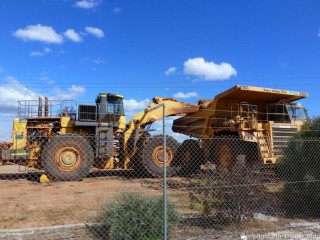 Talking of Komatsu's, Michael spotted a pair of brand new 785E dumptrucks, both emblazoned with Perth based Brierty's sign writing. These machines will be heading for one of the big mines in Western Australia, where Brierty's Mining Division have a big presence.
Lookout for more shots from Michael's Australian adventures on the Digger Blog soon.