Regular digger blog reader Rob Atkins, was recently working on a job which involved cleaning out and widening a lagoon on a farm close to the small town of Market Weighton, in East Yorkshire. Whilst on the job, Rob spotted this old Atlas 1302E "Rubber Duck" hiding behind some trees.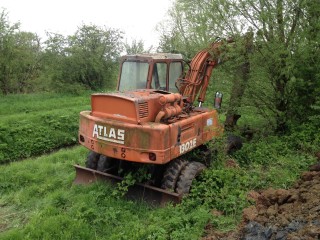 According to the serial plate, this machine was built by Atlas Weyhausen in Germany during 1987 and weighs in at just over 16 tonnes. The farmer who owns the machine told Rob that it has not been used for at least 5 years, but a glimpse inside the cab might suggest that it has been rather longer than that.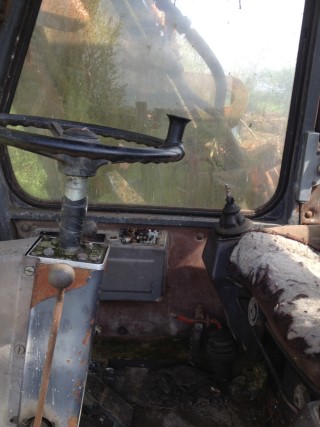 Atlas machines, whilst popular in Central Europe, appear to have had a somewhat chequered career in the UK. I recall as a youngster travelling around the country during my ice hockey playing days, one would often see Atlas machines up in the North of England and Scotland, but they were rarely seen down South. I think there used to be a big Atlas depot near Bradford back in those days.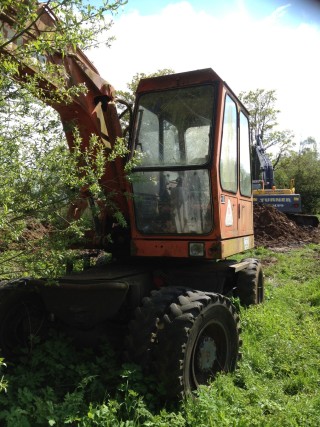 Blog reader Duncan Rudall, who runs DCS Training, was conducting a quick hitch training course in Hereford recently and discovered a whole machinery graveyard close by. This old Heathfield dumptruck was a great find.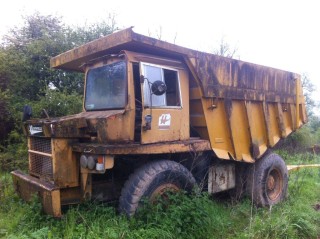 The Heathfield company was founded in the mid 1960's and dumptrucks were built in the unlikely setting of Newton Abbot in Devon. The company had a troubled history and after a series of owners, they were eventually taken over by South African manufacturer Bell in 1998 before being closed down.
Another find of great interest to me was this Hymac 580D from the company's infamous IBH era. I operated one of these machines for 9 years for Swanwick Construction in Southampton.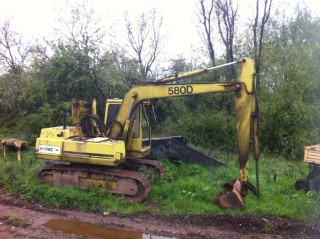 Compared to the old 580C's, that I used to operate for Wimpey Plant back in the late 70's/early 80's, these were complete luxury in their day. Admittedly they wouldn't "pull the skin off a rice pudding" in a tough digging situation but for grading operations I always thought they were superb machines.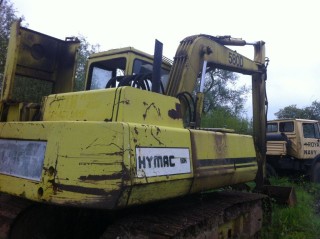 Cranes now, and a fine example of a Ruston Bucyrus 22RB which is just crying out for someone to come along and do a restoration job on her. This could be a nice machine for the team at the Vintage Excavator Trust in Threlkeld to add to their ever expanding collection.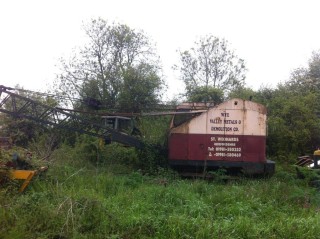 As cranes are not really my thing, I could do with some help from readers to identify this mobile crane. I am thinking maybe a Coles or an Iron Fairey, any ideas?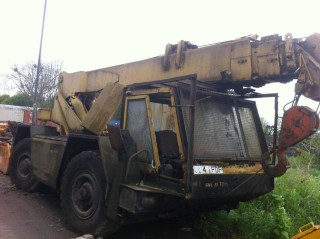 We could also do with some positive identification of these two old dozers, that have definitely seen better days. I am thinking the first one might be a Track Marshall but am not sure. Answers on an email or in the article comment box please!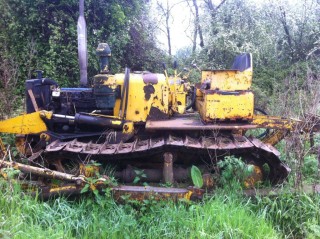 And finally in this batch, an early JCB JS130, which still looks as if it could put in a good days work. These were cracking machines in their day, and I spent time on one of these models and a JS200 on a site in Brixworth in Northampton.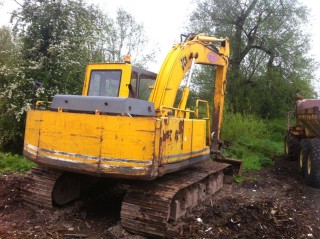 We thank Rob and Duncan for these great photos, and hope to see more from readers in the future.