Founded in 1957 by David Short, Shorts Group has grown to become a diverse organisation and a leading player in plant hire, agricultural contracting, demolition and waste handling across southern England.
Commenting on the new machines, managing director Gary Short said: "Promac provides a very helpful and efficient service which makes the choice of Doosan a very easy one. In fact we often choose them for applications where we like to operate something a little bit different, such as the 5 tonne DX55's in our hire fleet which can operate in confined spaces, but offer performance levels of typical six tonne machines."

Short Group's association with Doosan machines dates back to 1998 and, according to Mr. Short, this long-term experience highlights the excellent reliability, value for money and strong residual values offered by the brand.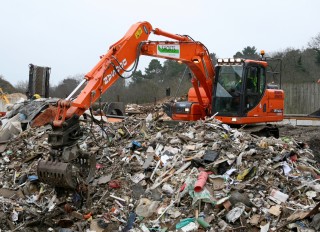 Demonstrating the versatility of Doosan's 14 tonne DX140LC model, Shorts has put its new machines to work in applications as diverse as agriculture and waste handling in one of the company's transfer stations whilst the new 30 tonne DX300LC, which features Doosan's very latest Tier 3b (interim) engine, will be dedicated to the demolition side of the business.