Australia is a big country, and big kit is the order of the day down there, it appears that everywhere Michael goes he is coming across large dozers, excavators, scrapers and a whole host of other machines. For anyone with a passion for heavy equipment, Australia appears to be the place where one can literally live the dream! Here are a couple Caterpillar D10N's that are lying in a machinery yard. Still looking in pretty good condition, despite the wear on the track grousers.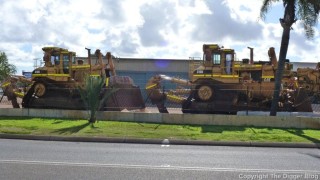 Michael came across this Komatsu D475A which is parked up in a breakers yard, obviously hasn't moved for a while, but has a very good set of tracks on her.
In this shot sneakily taken through a barbed wire fence, keen eyed Michael spotted a Cat D10N, which unusually for this area has no ripper fitted. Also in the yard was a Cat scraper, which had been converted into a water cart.
Michael wasn't sure about this model, but thinks it could possibly be a Cat 992 wheeled dozer.

Caterpillar D10's seen to be like London buses in the Perth area, with Michael seemingly finding them on every street corner. Here are another two D10N's parked up in a contractors compound.
And finally in this batch, a couple of photos which Michael took from some distance away as he drove past a job site. Firstly yet another Cat D10N is seen push loading a Caterpillar 651B single engine motor scraper.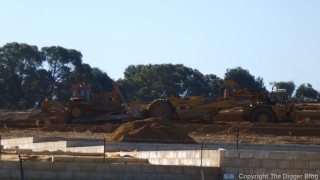 And in this shot, the D10N is still push loading, but is now flanked by more Cat equipment in the form of two Cat 657B twin engine motor scrapers in action on the cut above, and a Caterpillar 16G motor grader in the foreground, could almost be a Caterpillar promotional shot if the quality was better. Michael said "these machines were working on a hillside, and sadly the 20 x zoom on my 14mb camera was pushed to the maximum"!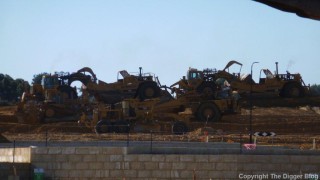 Thanks again to Michael for sharing these photos with us, and there are plenty more to come, as yet another batch arrived in my inbox at Digger Towers on Friday.