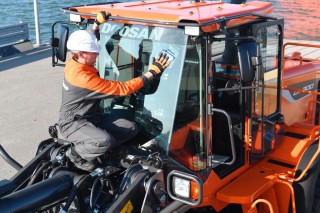 The five models are the DL300-5, DL350-5, DL420-5, DL450-5 and DL550-5.
Some of the new features are aimed at increasing safety and visibility in and around the operator's cab, while others just make life easier.
Now standard fitment is a handrail has been installed around the cab roof with three holding points, allowing operators and maintenance crew to clamber over the machine more easily to clean windows, for example, or to perform other tasks.
Similarly, there is also now a new large step and access platform on the front of the cab. And a change in the wiring routing has allowed the horn to be repositioned below the road light to give the driver a clearer view.
Inside the cab, there is a new ergonomic joystick control with a progressive thumb wheel added for the auxiliary hydraulic line (3rd valve). The progressive thumb wheel means that no additional lever is needed. The forward-neutral-reverse (FNR) control has been moved to the back of the joystick, via a three-position rocker switch.

The rear window has been given a rolling sunshield, while the ever-essential cup holder is now at the front right of the cab. And a new double hanger hook allows both helmet and jacket to be hung up inside the cab.
Additional convex mirrors have been installed on the lateral mirror frames to give additional rear visibility and a wider angle.
Outside the cab there is a new steel tool box below the ladder on the left hand side. This means that the tools are now accessible from ground level, with no need to climb up the side of the cab to reach them, so the cab stays cleaner and there is no obstruction of the cab entrance for safer access.
The steel cap on the transmission oil filler can now be locked with a padlock. When the transmission oil filler tube is locked, the transmission oil cannot be polluted with other types of oil or liquid, dust and other substances.
Along with these new features, Doosan has restyled all 12 of the models in its wheeled loader range, with more curvy lines and a change of colour – from orange to dark grey – for the front lift arm, front frame and front and rear axle components.