Pigeon Carrières is part of the Groupe Pigeon. It is an independent family-owned company based in the Grand Ouest (North-west France) that over the past 80 years has become a major player in regional town and country planning activities.
With 60 companies, 115 agencies and production sites, and more than 2,300 employees, the Group is currently chaired by Thierry Pigeon. Its main activities are quarrying, public works, lime, concrete, the trading of construction materials and processing of plastics.
Quarrying is its main business and employs 420 staff. The 49 operating sites provide an annual production of 10.5million tonnes and contribute to one quarter of the Group's non-consolidated sales (its turnover was €100.3million in 2010).
"The global financial and economic climate is uncertain, but we have reasons for optimism in this region," explains Thierry Pigeon. "This is an area that is continually developing. For example, the construction of the TGV between Le Mans and Rennes on the high-speed rail network is going to be a very important project. Wealso expect a new metro line to be built in Rennes and there is the possibility of a new airport in Notre Dame des Landes, between Nantes and Rennes."

The 50-hectare granite quarry, where the first ZX870LCR-3 has already started work, employs 52 staff over two shifts. The new machine has joined a ZX670LCR-3 in loading blasted rock on to rigid dump trucks. A Hitachi ZW310 wheel loader has also been supplied by local dealer, Cobemat, for loading 3,000 tonnes of aggregates on to 150 delivery trucks per day.
"We have been very happy with the different generations of Hitachi machines that we have bought over the past 24 years," adds Thierry Pigeon. "They offer high levels of reliability and productivity, with minimal downtime, and our operators love working with them."
One of the operators, David Garnier, has been working with the ZX670LCR-3 since it was delivered in 2007. "The ZX670LCR-3 is very fast and productive, which is ideal for working in this quarry," he explains. "I also find it to be stable and comfortable. The cab is just like new and the climate control is excellent. This machine is like my baby!"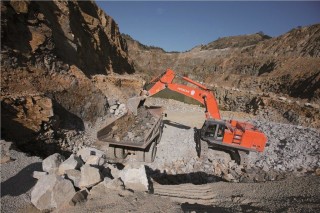 Cobemat's Managing Director Xavier Beaulieu underlines the importance of the quarrying industry to the region, "Brittany covers a vast and diverse area that includes many quarries - an industry sector for which Hitachi is renowned. We enjoy a close working relationship with our quarrying customers and have developed a sizeable market share with large Zaxis crawler excavators."