We had a fair amount of feedback from the Abandoned Machines post, so it gives me great pleasure to compile another selection for your enjoyment.
First up is one of the all time favourites from Caterpillar, the 1960's & early 70's classic, the D9G track type tractor. The D9 was originally introduced in 1955 and was upgraded through various guises. Boasting a 385 horsepower engine, the D9G remained in production until 1974.The example in this photo shot by Luke, although appearing to be in good condition, looks as if it hasn't moved for some time.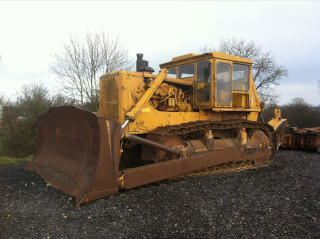 Talking of classics, here's another famous machine, this time from the UK, the Hymac 580C was at the backbone of many contractors' fleets back in the day. From 1964 to 1987, over 10,000 models of the 580 were built at the company's manufacturing facility in Rhymney, South Wales. These machines still have a cult following today, with many good restorations to be found. In many instances they are still put to good use on a daily basis on farms and small build projects. This one, spotted by Luke whilst out and about, still looks in good condition. It would be good to find out if she is still a runner.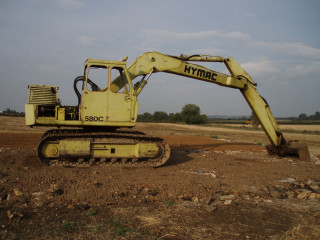 Check out this old girl lying in the bushes looking very sorry for itself, this looks like an International Harvester B100 crawler loader, but I can't be sure of its positive identification from this photo.
Here's a JCB 800 series model in an unfamiliar red & white livery, looks as if it could be an 805B Turbo with the "powerslide" boom arrangement. That was a very handy set up especially when working in amongst houses. I have never understood why it never took off with other manufacturers. If memory serves me right, French manufacturer Poclain, did produce a fully hydraulic version at one point.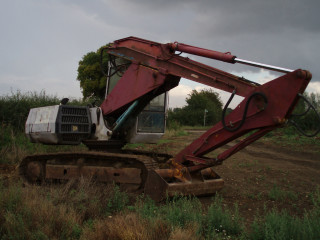 Here are two shots of a Hanomag 450ELC hydraulic excavator, at the time this machine would have been manufactured around 1980 to 1983. Hanomag was owned by the IBH group, which later collapsed in 1984. This machine was Hanomag designed but based on the old Massey Ferguson excavators.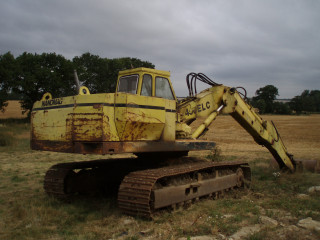 If you look closely at this photo you can still see the dealership name of Kellands Ltd., on the side of the machine.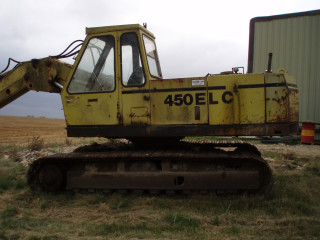 Now here is a sight to break any Hymac fans heart. Yet another 580C arrives for a date with the gas axe at a scrap yard. It's sad to see so many of these once iconic old machines going this way. Yes they were very basic, and one of the reasons I am partially deaf in one ear these days! But I loved to operate them and of course back in those days, we didn't know any different!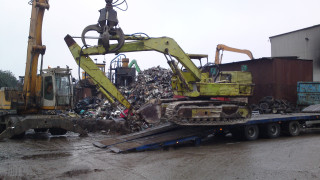 And in the same vain surely, this old JCB 3CII has reached the end of the line, sad to think that this machine was once someone's pride and joy on site.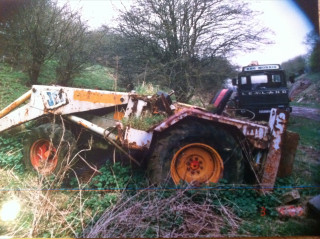 This Case 450 is barely recognisable in the overgrowth. I am told by older generation operators, that these were pretty good machines in their day and would be interested to hear readers thoughts on them on the blog.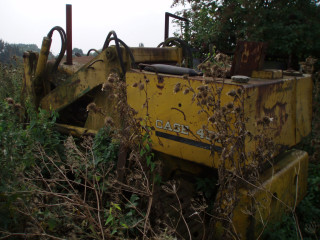 And finally in this batch, here is really rare machine! It's an International tractor and front loader, which has a Wainroy backhoe fitted to it. It's hard to believe that you could actually dig anything with that fragile looking backend on it. But hopefully someone will tell us that they did in the not too distant future!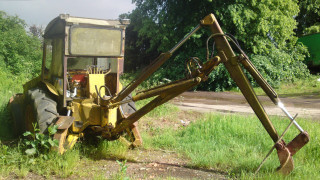 We thank Luke Finney for sharing his photos with us here on the Digger Blog.