This latest addition has been put in charge of the stocking out area of Gurney Slade quarry, keeping the stock piles trim and loading a continual stream of road wagons with an assortment of limestone product ranging from 40mm stone down to dust. Replacing a venerable L180E that had clocked up an impressive 24000 hours on its original engine and transmission, the new L180G has a tradition to uphold. Equipped with Michelin XLDD2A L5 tyres, a standard 4.4m³ rehandling bucket and RDS 8001 weighload the new loading shovel is fully fit for purpose handling in the region of 2000 tonnes of material in a daily shift.
"We didn't just re-order another Volvo," comments quarry manager Dave Roberts. "We looked very carefully at the market place and comparing like with like it was a close run thing, but we finally opted on the product we know best and that has proved itself over time coupled to the projected lifetime running costs," he continued.

The new Volvo L180G features a 13 litre Tier IIIB compliant 333hp engine, optishift transmission and axles all designed and manufactured by Volvo and features a full turn tipping load of 17.2 tonnes anda 20% increase in lifting force and 10% increase in breakout force over its predecessor. This coupled to the engine output with high torque at low engine rpm has resulted in faster cycle times and increased productivity. Two stronger, variable displacement load-bearing axial piston pumps and hoses have been introduced to handle the increased pressures. These provide superior control of the load and attachments, as well as high breakout force, faster lifting and tilt functions. A new hydraulic cooling system has been designed to reduce the working temperatures by up to 20oC over the F series model.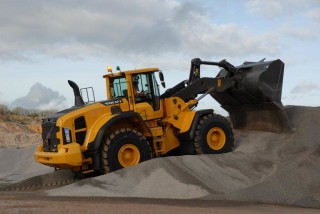 Morris & Perry Ltd is a family owned independent quarrying company located in the heart of the Mendips. Quarrying at Gurney Slade is recorded as far back as the middle of the 19th century and in more recent times the company has incorporated an asphalt plant and a concrete batching plant servicing the immediate vicinity, Somerset, Wiltshire & Dorset.