The current 700 series models, although still looking very modern and cutting edge in design, have been in place for 11 years now and as such Caterpillar felt it was time for a radical upgrade to the range. The first models to get the B Series treatment includes the 735B, with a payload of 36ton (32.7-tonne); the 740B with a payload of 43.5 ton (39.5-tonne), and the 740B EJ which features the increasingly popular ejector body which is capable of carrying a 42 ton (38-tonne) payload.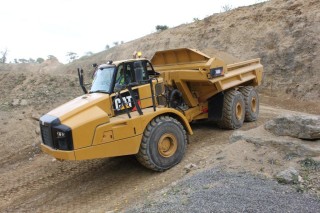 A whole host of new and improved design features have been included in this new model, and as the Digger Blog cares about operator comfort and safety, we were delighted to take a look at the all new cab design first.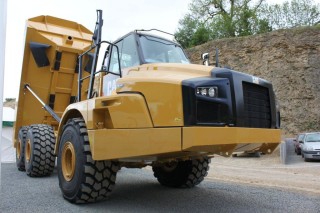 Caterpillar has listened to the operator and customer feedback to manufacture a cab that will ensure an operator is comfortable right through a long shift. The new seat which is made of new durable materials, features improved suspension, and offers the operator multiple position adjustment, which is vital for the operators comfort and well being. The seat can also be specified with a heating option which is often vital in markets where extreme cold temperatures are experienced.
Other improvements in the cab include a new injection molded dash panel, which features a totally redesigned instrument cluster and a fully customizable Colour Multi-Purpose Display (CMPD). This informative display unit gives the operator all the information he requires throughout the shift - such as fuel levels, autolube status, major component temperatures and load count. In addition to those features, when reverse gear is selected by the operator the CMPD screen becomes a rear view camera, essential for reversing operations at the discharge point.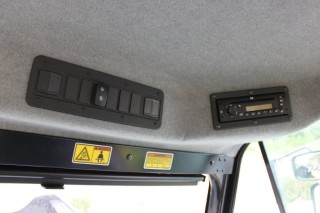 A new headliner as seen above, is fitted with switches for the optional electric mirrors, regeneration operations and an all new heavy duty CD radio, there are also new grab handles for operator and passenger to improve stability when on rough terrain, add to that a new and upgraded, heating and air conditioning system which is said to offer a 60% performance increase making this cab a nice place to be in all climates.

Other new "in cab" features of note, include the fitting of a new floor mounted throttle control to alleviate foot/ankle fatigue, and a new rocker park brake switch which is recessed into the control panel to prevent accidental engagement.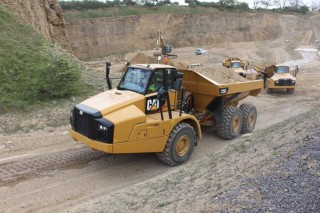 Visibility on the New B Series is excellent, with a great view of the surrounding work area from the drivers seat. Sadly on this occasion I didn't get to drive the machine, but I did get to ride in the passenger seat of the 735B and I was very impressed with the ride comfort the new machine offers.
Daily routine maintenance is made even easier for the operator, with the introduction of an in cab switch to raise the engine hood which improves access and indeed security. The fitment of new external cab grab rails gives the operator more safety when performing daily checks and cleaning windscreens. The newly repositioned ground level fuel filler also improves access when refueling at the end of the shift.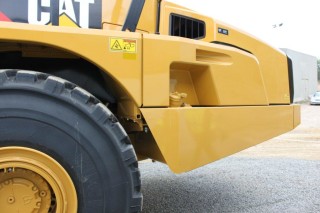 In part two we will look further into what makes this new stunning new Cat perform.