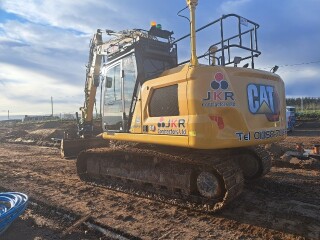 JKR Contractors has bought the Cat 317 as a replacement for its 316 machine and has been supplied by dealer Finning with the latest Trimble 3D technology.
JKR director Jim Taylor describes the new machine as a versatile small excavator that fills a gap in the fleet. At 18.5 tonnes, it can be effectively deployed on both house-building and roadworks projects.
He says: "The machine has been fitted with a tilt rotator, which makes life easier for our driver and the machine is more productive as it can dig from the same position without moving. We run the Trimble technology from Sitech on all our machines which means our engineers can upload and update drawings remotely.
"The technology is an important element for us. Engineers are hard to find, as are operators and ground works staff, so having the technology allows one engineer to manage multiple sites remotely from the office. It also cuts the time it would take for them to travel to and from sites."
JKR was started in 2007 by Jim Taylor with his sons Kevin and Ryan (hence JKR), providing civil engineering and concrete works to commercial, domestic and agricultural businesses throughout northeast Scotland. They now have more than 180 staff.

The purchase of the Cat 317 is part of a wider investment in Caterpillar earthmoving machines by the company. Since 2020 it has bought two Cat D6 dozers, three Cat 320 excavators and three Cat 313 excavators.
Caterpillar dealer Finning also provides JKR with regular machine performance reports that include monitoring fuel usage and idle times, together with a warranty and service package monitoring machine health.
Finning major accounts manager John Stuart says: "We have a longstanding relationship with JKR. It's been great to see them grow as a business over the last few years and support them in getting the best out of their fleet.
"The Cat 317 is a great choice of machine, and we already have several enquiries from other customers about it as it has some great built-in technology including E-fence which ensures the machine works within a set area to avoid hazards. There are also 360-degree cameras and soft levers which are very easy to operate with no resistance at all, which operators really like.
"The addition of the Trimble 3D kit from Sitech provides the operator with the levels to work to and gives them a plan and depths, which alleviates the need for an engineer on site. JKR were early adopters of the software because the tolerances it gives are very small and there are no reworks which reduces wear and tear on the machine."