Caterpillar started producing backhoe loaders at its Leicester based Desford facility way back in 1985, with the introduction of the A Series. Since then, the company has passed many significant milestones, including, the 25th anniversary of backhoe loader production in 2010, and the 250,000th machine rolling off the production line in 2012 , a machine that was sold to an American customer, CF Jordon from El Paso, both big milestones that we featured here on the Digger Blog.
The latest F Series model features a whole host of improvements, including, new engines, refined hydraulics, a fully redesigned linkage, greater visibility, and easier access for maintenance. For all machines delivered into the European Union, the new F Series will feature the Cat 4.4 engine, which meets current EU stage IIIA emissions regulations. However an EU stage IIIB solution looks set to be phased in towards the end of this year for the 428F and 432F models. Engine power output is 65kw (87hp) on the 428F and 71kw (97hp) for the 432F model.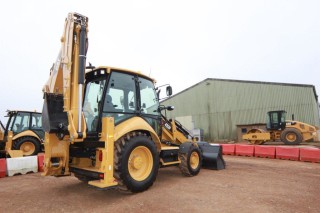 A significant change on the F Series is apparent at the loader end of the machine, with the newly designed loader arms increasing maximum dump height by some 3%. Lift capacity has also been increased by as much as 15%. In addition bucket roll back has been further improved on the parallel lift arm models to facilitate better load retention. The operators view towards the bucket has been further enhanced with the fitting of a new sloping engine hood, which also tilts upwards for improved access to the engine components.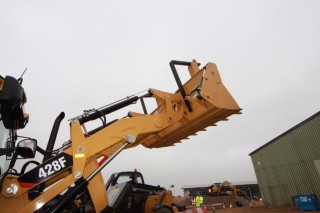 Cat has also introduced a new lock-up torque converter, which is available as an option on all autoshift models. This is aimed at increasing road travel speeds as well as reducing fuel consumption, which will be very useful in the UK as "roading" backhoe loaders is still a very popular method of moving from site to site. The full autoshift transmission will be available on the 428F and replaces the previous powershift transmission on the outgoing E Series machines.
Another useful addition is the fitting of boosted brakes, which are now fitted as standard on all F Series machines. Boosted braking enhances the braking whilst reducing the amount of pedal effort required by the operator. In addition, a clever electronic torque limiter fitted on the 432F further improves machine controllability even at lower engine speeds, which can only help to improve productivity and increase the operators comfort.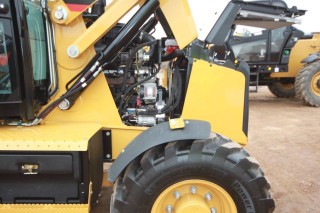 New improvements for regular servicing and maintenance include easier removable side engine panels, tilting engine hood as previously mentioned, a new footstep which has been mounted on the front fender, which improves access for daily fluid checks, and a hinged cooling pack which can be lifted up to facilitate regular cleaning of debris build up. Batteries are now also located within the nose of the machine, and a new battery isolator switch has been added to further improve machine security.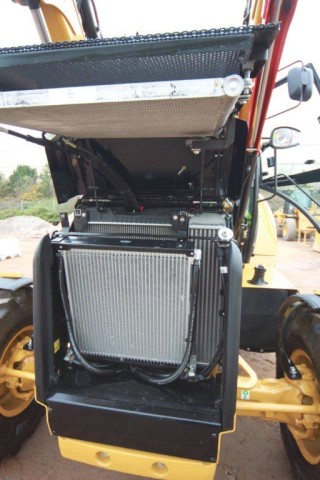 There are also two new tanks fitted, a 160 litre non metallic fuel tank which helps to reduce condensation and is not so prone to corrosion, this is also protected by a strong metal plate underneath to avoid and damage from penetrating rocks and the like. And new hydraulic oil tank with an improved suction strainer and a built in large replaceable cartridge-type filter.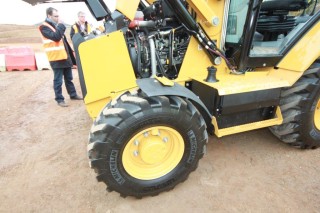 Sadly on this occasion, I did not get a chance for any stick time on either of these models, as take up was very popular among the assembled journalists, however I am sure the opportunity will arise in the future to put one through its paces, possibly when the upgraded Tier IIIB models are brought online towards the end of this year.
Around that time the equal size tyre models, 434F and the top of the range 444F will also be introduced and I look forward to reporting on those models for the Digger Blog readership.