According to Caterpillar, the new 775G Off-Highway Truck sets new performance standards for this size model, whilst meeting US EPA Tier 4 final emissions standards. The big headline news is that this machine and the smaller 773G are the first Tier 4 final machines to be sold by Caterpillar. Having said that, machines sold into the European market will initially be supplied with the older stage II engine.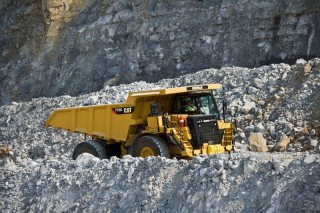 The new 775G competes in the 70 ton class bracket, and is powered by Caterpillars C27 Acert engine which has a net power output of 779 hp/581 kw . Gross machine weight is 242,000lb/ 109 770 kg and the machine can reach a top speed, fully loaded of 42 mph/ 67.6 km/h.
A number of new components and electronic management systems have been introduced, including the latest Cat transmission control, named APECS which stands for Advanced Productivity Electronic Control Strategy. This system is said to improve productivity, fuel efficiency and improve drive train durability. The inclusion of two different economy shift mode selections, enable the customer to tailor performance to the needs of their business.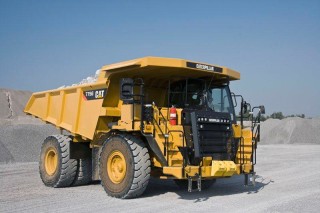 Advanced control systems also integrate the optional engine compression brake with Automatic Retarder Control to enable faster downhill travel and reduced cycle times―without increased fuel consumption.
Although we did not get to see a new G Series truck in the flesh in Malaga, I was impressed by the presentation detail about the new cab that is offered with these new trucks. The operator's seat is now centrally positioned in the cab. This provides the operator with much more space. The new cab has access and egress from either side now which gives the operator more option for cleaning of cab windows and mirrors etc.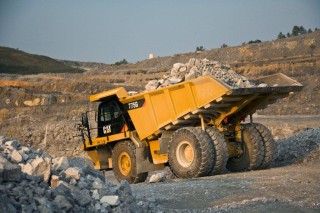 The access stairs are also illuminated by LED lights, which allows for much safer climbing on dark mornings and during night shifts. As one would expect in cab noise levels have been reduced by 4dbA making it a much more pleasant place to spend a long working shift. Fully automatic temperature control and an electrically operated left hand window, add to the operators list of creature comforts.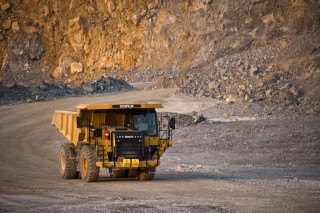 Maintenance has been greatly improved with the inclusion of a ground level electrical service centre and diagnostics port located within the front bumper. Caterpillars VIMS data collection system is now a standard fitment on the 775G, this feature allows the customer to access prognostic and diagnostic information which gives a detailed analysis of vital machine functions. There is also the option of a VIMS service light on the front of the truck which can give advanced warning of any machine event that may affect performance.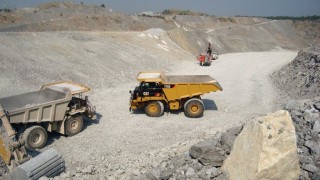 Fluid level indicators and fill points are now all grouped together for improved access and efficient filling. And all fluid filters are in close proximity for ease of service. Filter service changing intervals for steering, hoist/brake, and transmission/torque converter have been increased significantly from 500 to 1,000 hours.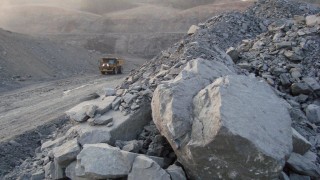 As with the previous model, a number of different body options enable a customer to configure a truck to achieve optimum capacity and durability. The 775G will replace the 775F when it goes into commercial production in the fourth quarter of 2011.