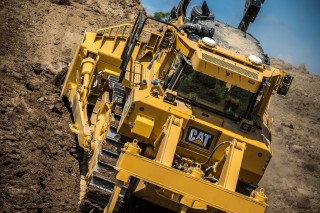 And according to Caterpillar, they've achieved it. The bulldozer has an all-new fully-automatic four-speed transmission, delivering up to 18 percent more productivity without consuming more fuel. Added blade capacity, increased power and steering performance, and a full range of technology options help customers move more material in less time, at a lower cost per tonne, generating a faster return on equipment investment
Much of the productivity gain comes from the new transmission. The powertrain continuously optimises the dozer for maximum power and greatest efficiency based on the load. There is no need for the operator to upshift/downshift – the added gear and seamless lock-up clutch engagement ensure smooth shifting, Caterpillar says.
The Semi-Universal (SU) blade capacity has been increased by 19 percent. At 10.3 m3, it is the largest SU blade in class. Optional patented Performance Cutting Edges increase blade payload by up to 25 percent versus standard cutting edges, especially in hard/frozen ground or heavily compacted materials.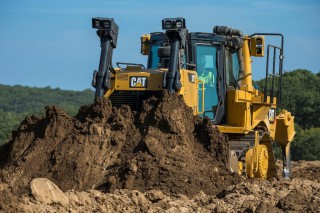 The Cat C15 ACERT engine offers 264 kW/359 DIN net horsepower. Drawbar power is increased by up to 13 percent. Additionally, "a 10 percent increase in steering torque, fully automatic transmission and differential steering combine to provide best-in-class steering performance under load," Cat claims..
Grading technologies range from simple grade indicators to full factory-integrated GPS.
Cat Slope Indicate is standard, showing the machine cross-slope and fore/aft orientation on the primary monitor.
Cat Grade with Slope Assist is an option on Single Tilt D8Ts that provides basic blade positioning assistance without the need for added hardware or a GPS signal.
Cat Grade with 3D is an optional factory-integrated grade-control system that provides three-dimensional guidance both for production dozing and fine grading. Roof-mounted antennas eliminate blade masts and cables.
Factory Attachment Ready Option (ARO) provides optimal mounting locations, brackets, and hardware and simplifies installation of an aftermarket grade control system.
AutoCarry automates blade lift to maintain desired blade load, improve load consistency, and reduce track slip. It works with Grade with 3D.
The D8T is available in standard and low ground pressure (LGP) configurations, as well as purpose-built waste and stockpile arrangements. A variety of blades and track shoe types/widths allows each machine to be tailored for specific applications.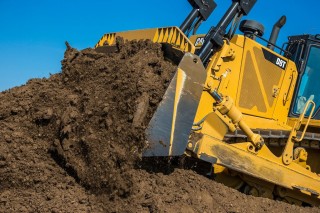 Caterpillar D8T specifications
Engine model

Cat C15 ACERT

Emissions

EU Stage IV (US EPA Tier 4 Final)

Net Power – 1,900 rpm

ISO 9249/SAE J1349

264 kW

359 DIN hp

Engine Power – 1,600 rpm ISO 14396

294 kW

400 DIN hp

Operating weight

Standard (single-shank ripper)

LGP (drawbar)

39,750 kg

37,750 kg

Blade capacity

Semi-Universal

Universal

10.3 m3

11.8 m3