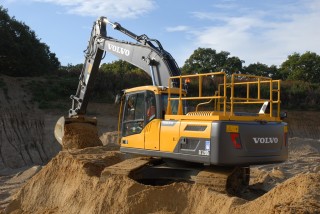 The Volvo EC220D crawler excavator has been put to work on primary extraction and bulk muck shifting duties, taking over from a Volvo EC210LC that was originally supplied back in 2007. The older machine has now been sent to work at a sand and gravel extraction quarry near Dunmow.
"The performance and reliability of the EC210 cannot be faulted and this was the primary consideration when we looked to add another excavator to our fleet," says SRC director David Hunter.
As well as having a new Stage IIIB-compliant D6 engine, the EC220D has an improved hydraulics system with larger pumps that in turn improve fuel consumption with shorter cycle times. Operators can select the best work mode for the job at hand: I-idle, F-fine, G-general, H-heavy or P-power, with the machine automatically setting the appropriate engine speed for the work mode. There is also Eco mode that works with G, H or P mode.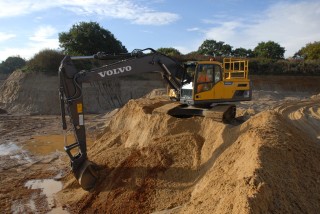 The 'smart' hydraulics have an 'automatic sensing work mode' that controls independent and simultaneous movements of the digging equipment. The system can also prioritise flow according to the work being done – e.g. to the boom for faster raising when loading or in deep excavations, or to the arm during levelling or swing during large slewing angles.
As well as general extraction of sand and ballast, the new EC220D is also being used to construct a reservoir on Crown Quarry site for the Ardleigh Reservoir Committee. It joins a mixed fleet of equipment at work on the site, including articulated haulers, loading shovels and excavators.