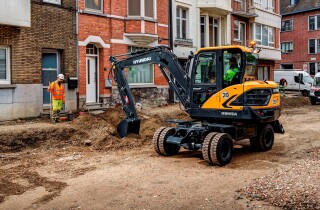 The Hyundai HX65A crawler excavator and the wheeled HW65A (pictured above) replace the R55-9A and R55W-9A in the Koran company's line-up, with a revised design, new technologies and upgraded features.
The operating weight has been increased to 6.0-6.5 tonnes, depending on specification, and both machines are now powered by Hyundai's own Stage V diesel engine. This 2.4-litre motor delivers a maximum power rating of 48.5kW, with 248Nm of torque available, driving a Bosch-Rexroth open centre hydraulic system, with Parker main control valves and an Eaton swing motor.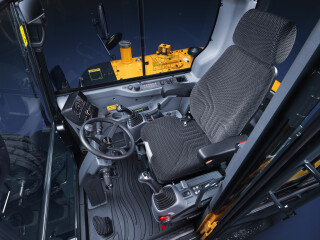 The hydraulic system is equipped with proportional joysticks as standard, with a ram lock switch mounted on the left-hand lever head. Double-acting breaker piping is also standard equipment and rotation piping is available as an option from the factory. The excavators feature an improved swing motor, offering increased operating speed and torque, boosting productivity in digging and loading operations.
The new cab design delivers improved space for the operator, with increased visibility and a fully adjustable and heated operator seat. A revised air conditioning system provides optimised airflow within the cab and there are lower noise levels inside and externally. Bringing technology from larger Hyundai excavators, the compact machines now have a 7-inch touchscreen monitor. This can be used to set auxiliary hydraulic flows for attachments.
Cabin working lights have been improved and there is now the option of full falling object guards (FOGs) at the front and top of the cabin to provide additional protection on demolition and other hazardous operating sites. Rear and side view cameras provide improved visibility all around the machines.

In response to customer demand, the wheeled HW65A will be offered with a choice of single or twin tyres, available from the factory, to allow the machine to better adapt to a range of job site requirements, delivering optimal traction and stability.
Also new is the HW100A (pictured below), which takes Hyundai into the largest sector of the compact wheeled arena, the 8-11 tonne market. With a slim counterweight and a tailswing radius of 1,600mm, the HW100A can work within a single carriageway. The machine is equipped with three steering modes, increasing manoeuvrability in confined site conditions. Two-wheel steering, four-wheel steering or crab steering.
Power is provided by a Hyundai D34 diesel engine developing a 75kW (100hp), with 460Nm of torque available at 1,400rpm. Like on Hyundai's heavy excavators, operators can choose from three power modes – Power, Standard and Economy.
The HW100A comes with a two-piece main boom and a long reach dipper arm. Maximum digging reach is 7,820 mm, while maximum digging depth is 4,245 mm. Lift capacity at five-metre radius ranges from 1.55 tonnes over the side, to 2.33 tonnes over the front of the machine with the blade down.
Customers can choose between a front-mounted parallel dozer blade and independent stabilisers at the rear, a front grapple bar with rear-mounted dozer blade, or front and rear outriggers. All options are interchangeable with the same bolt-on mounting system. In each case, the outriggers operate within the machine width.