In a ground-breaking move some of JCB's excavators are now being powered by the company's record-breaking 4 cylinder Dieselmax engines for the first time ever. These engines are said to deliver a staggering 24% improvement in fuel efficiency. The 19 tracked machines and four wheeled models which range from 11 to 46 tonnes also get a brand new cab and all new restyling, including a stunning looking all black counterweight.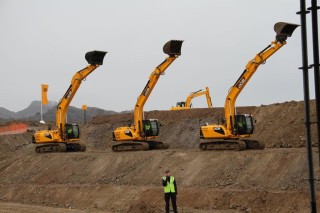 The JCB engines will be fitted specifically into the following models: 11 tonne JS115, 13 tonne JS130, 15 tonne JS145, 16 tonne JS160, and the 18 tonne JS180. In addition, the wheeled variants JS145W and JS160W will also be fitted with the 4.4 litre Dieselmax engine, which is replacing the previous Isuzu units.
Sadly the Digger Blog didn't make it out to the launch on this occasion but I have come across this video which shows models from the new range being displayed in some rather unseasonal weather in Spain.

As mentioned previously, a brand new cab has been introduced across the new range, which features an important change to the front windscreen. It is now a 70/30 split screen with the bottom section of glass now 125mm lower which helps to improve the operator's view of the digging area. This was a direct response to customer feedback. Flat glass is now being fitted into the front screen as opposed to the earlier curved glass. This makes for easier replacement and in my opinion improves visibility as I have always found the curved glass can often distort your view of the ground. Other cab improvements include a new windscreen wiper arrangement and a more spacious storage area behind the operator's seat.
I am looking forward to taking a closer look at this new look JS range when they are displayed at Intermat, this coming April in Paris.