On arrival at the venue I was greeted by D&G Machinery's salesman Luke Harris, who had been using the machine during the morning levelling an old tip area within the grounds of the golf course. Luke himself is a very experienced machine operator, with many years in the seat under his belt and fully understands what an operator is looking for in a machine. He has been very impressed with the E215B and that was one of the reasons why he invited me along to take a look for myself.
The New Holland E215B certainly looked impressive in its bright lemon and grey colour scheme, which made the machine stand out on a dull & overcast Saturday morning, so what was it going to be like to operate? Without further ado I climbed into the cab to try it out for myself.
First impressions once in the seat were just how spacious the cab was. Most B Series New Holland machines are currently being fitted with the latest C Series cabs, which feature a whole host of improvements when compared to the old models. As is normal these days there is a lot more glass, which makes all round vision excellent. Once I had fully adjusted the seat and settled in, I took a good look around the cab area. It was interesting to see that all vital switches and controls have now been positioned on the right hand side and were all easily within reach from the seat.
As is the norm these days, a highly informative digital display screen is provided in front of the operator. On the right hand side of the cab, the A.E.P Monitor, as New Holland call it, provides the operator with analogical gauges that provide all essential information, including fuel levels, oil & water temperatures and early warning of any potential machine malfunctions.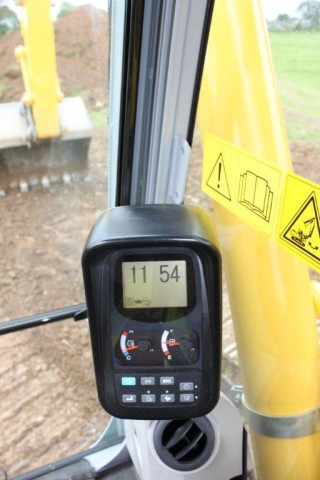 Although it was a damp misty morning, it was quite a warm and stuffy, so I cranked up the new and improved powerful air conditioning system that New Holland has fitted in these cabs. I was now very comfortable and so it was time to put the machine to work.
Already set up in auto-idle mode, the machine roared into life as I lifted the boom up. The E215B is fitted with a lively CNH, six cylinder, direct injection, turbocharged engine, which produces a net flywheel power of 118kw/158hp. I must say it sounded sweet as it powered up, the machine was in its standard S mode, which is recommended for general site work, but being a bit "old school" I felt that I wanted more power so selected the H mode which is generally used for heavy digging work. I must point out here, that most manufacturers today are encouraging operators to use the correct mode settings to make themselves more eco-friendly and to increase fuel economy for the company as well. As one would expect from a machine with such a pedigree, its performance was smooth, powerful and very quick.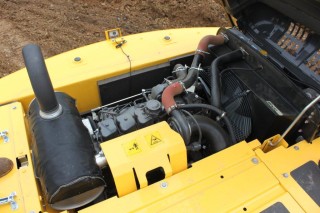 If I had to find a fault, it would only be the fact that when grading there appears to be a flat spot midway through the stroke, which seems to allow the bucket to dive in momentarily, but with time one would soon get used to it. I only operated the machine for around twenty minutes but I was getting used to the grading aspect towards the end of my drive.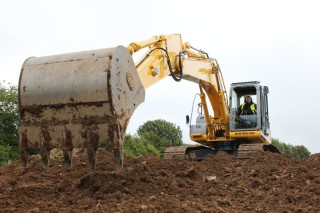 Weighing in at around 23 tons, the E215B is certainly capable of punching above its weight. I found it to be incredibly stable in the dig and even when discharging a full bucketful over the side it remained totally planted to the ground, the machine ticked all the boxes as far as I was concerned and perhaps with a bit of fine tuning on the grading front these machines could easily be top class. I would definitely be very happy to spend my working days in one of these machines.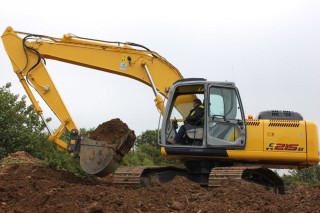 D&G Machinery are already making inroads with some customers in the South West who have generally been loyal to other brands, with one of the top players, Steve Hoskins Construction having already taken delivery of a E215B recently. I plan to do a site report on this machine in an upcoming blog post.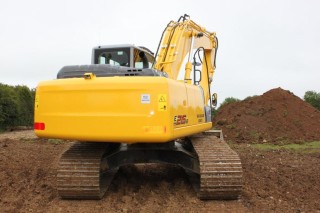 The perfect machine has never, and probably never will be made, but some of the latest machines on the market really do take some beating. Most major manufacturers are using similar well proven and high quality components, so when it comes to customers selecting their latest purchase, it is increasingly coming down to price and in the current climate, availability.
The Digger Blog would like to thank the team at D&G Machinery for inviting us to evaluate the machine and we will be keeping a keen eye on sales of these machines in our neck of the woods.