Tarmac's Swinden quarry is just off the road between Skipton and Grassington in the Yorkshire Dales National Park. Until the turn of the century it was operated by Tilcon and caused a right old mess, chucking limestone dust around the place. There has always been lots of quarrying in these parts, as evidenced by all those dry stone walls. In recent years, Taramc has invested millions in improving the quarry, drastically reducing its impact, and this securing permission from the National Parks authority to expand operations.
The most recent investment is an ultra-large Hitachi EX1900-6 excavator as the site's new primary mover, to reduce operational hours at the site by increasing productivity and efficiency.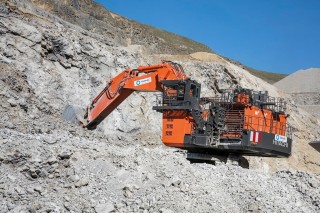 The EX1900-6 is used to load up to 1,200 tonnes of carboniferous limestone per hour directly into a 200-tonne mobile crusher. A field conveyor takes the material to a secondary crusher at an average rate of 1,000 tonnes per hour.
The Hitachi model was supplied with a longer boom and arm than is customary on a machine of this size, along with an 8.0 cubic metre bucket. "This is because it needs a larger working range to reach the limestone and load the crusher," says Mark Turnham, mines & quarries Manager at Hitachi Construction Machinery (UK). "It means the primary crusher doesn't need to be moved as frequently – this can take 45 minutes – so it enhances the efficiency of the process."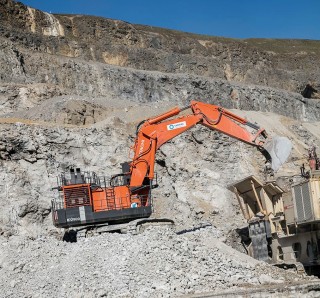 Swinden Quarry produces various sizes of aggregates, from 100mm down to dust (including grades of 80, 40, 28, 20, 14, 10 and 6), which are dry stored in silos. The material is either directly transferred to the site's rail siding via a conveyor to the fully automated lorry load-out, or into the 'toast rack' storage, from which a wheeled loader can directly load customers' trucks.

Approximately 60% of the materials are transported by rail to Tarmac's dry distribution centres in Leeds, for onward transportation to South Yorkshire, and a depot in Hull. Much of the limestone is used in Tarmac's concrete and asphalt plants in the north of England.
With the arrival of the EX1900-6, Tarmac intends to maintain its current production levels and annual output of 2.3 million tonnes. Quarry manager Jez West explains: "During the tender process, we looked at productivity and fuel consumption. We wanted to reduce operational hours by increasing productivity."
Operator George Metcalf has been impressed by the speed and productivity of the machine, which was delivered in November 2015. "It's faster than other machines I've used and has good all-round visibility. The cab feels more open and spacious, the seat is comfortable, and the controls are easy to use."