I have operated and owned many different Hitachi machines during my 35 year career in plant operating, from the old UH series machines, to the latest Zaxis models, and have always been impressed with the quality of the product, so when it came to the time to change my current Zaxis 30 machine, there really wasn't much doubt in my mind that I would choose another machine from the Japanese manufacturers stable.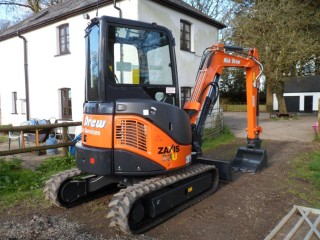 My model of choice on this occasion is the compact radius Zaxis 33U-3, which weighs in at 3470kg and is powered by a 3 cylinder, 21.3kw (28.5hp) Yanmar engine, which incidentally is Tier III A compliant. Delivery of the machine was a somewhat protracted affair, but the wait has certainly been worth it, as I used it today for the first time, and the first drive was a fantastic experience. My initial concerns about the in cab dimensions quickly diminished, and after some minor seat adjustments I found it to be nice place to spend a shift. The fitment of air-conditioning as standard was a big draw for me, as I often spend a lot of hours using my flail mower attachment which always used to send the temperature soaring on the old machine, making it a fairly uncomfortable experience in the cab, this should now be a lot better on the new model as I tried the unit out today and it was very effective indeed.
Another selling point for me was the machines compact dimensions, due to the fact that during my work on the Button Estate in Devon, I am often required to work inside barns and close to buildings. With a rear overhang of just 90mm this is sure to make my life a lot easier, and will enable me to further concentrate on the job in front of me and not have to worry about the possibility of rear end damage.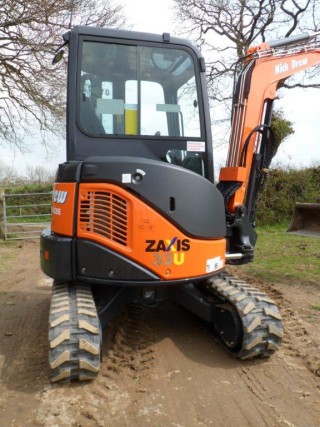 This will also be a massive advantage when working on housing sites, whilst working around plots performing a whole host of tasks, including drainage, foundations and landscaping work.

Routine daily maintenance is a big improvement on this machine, with centralised servicing points which are easy to access. The radiator and oil cooler are now far more easily accessible to facilitate cleaning of dust build up. The large plastic cover to the right of the cab lifts up and forward to allow access to the aforementioned radiator and oil cooler, battery, fuel and hydraulic tanks.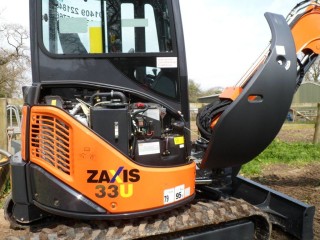 The rear engine cover slides up on release of the catch, to allow access to the fuel and oil filters, and the cab itself can be tilted forward by 50 degrees to gain further access to the rear of the engine and other vital components.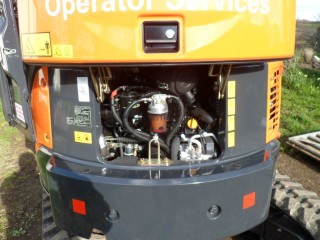 Putting the machine to work for the first time today, it was everything that we have come to expect from a Hitachi product over the years, smooth hydraulics with a really positive feel to them, plenty of power when needed, and extremely quiet and efficient in operation. This machine's new engine and hydraulic system certainly appears to boost power and operating efficiency and when used in its Eco zone setting, is said to slash fuel consumption quite considerably, as does the Auto-idle function, which when you are a one man band like me can be crucial.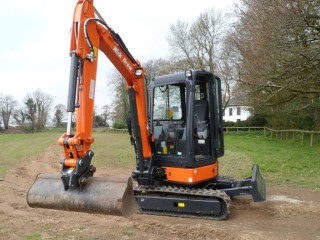 I will report further on the new addition as my time on her progresses, here on the Digger Blog. But for now I am off to Intermat in Paris, so check out the blog on my return.