Well known Kent and Sussex hire man Ralph Wilcox, originally brought a Yanmar VIO30 two years ago at the Executive Hire Show in Coventry, after the success of this machine with his customers there was no contest when it came to replacing two of his ageing 5 ton machines.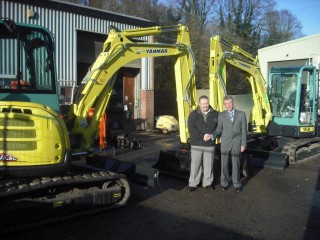 The 2 new Yanmar VIO50's seen above with Ralph Wilcox Director Oaks plant hire and Ammann Regional Sales manager Gary Wingrove
Ralph said, "moving to the Zero tail swing had been good with his customer also from the fleet point of view we get less damage to the body of the machines "
Ralph added, "we have various Ammann and Yanmar products and have found all most reliable for hire. The service back up and spares are excellent without question ."

The Features that impressed Ralph were, sprung steel ramgaurds on all rams, the new shaped boom to ease loading of an 8 wheeler, the massive cab and the extended blade for cleaning up . However Ralph's favourite feature was the built in Auto-Refuel which eliminates the likelihood of fuel contamination from filling with dirty cans.