The 1970s-era building, on the corner of Tabernacle Street and Bonhill Street in Shoreditch, close to Old Street roundabout, was originally occupied by the Financial Times newspaper, whose presses were located in the double-storey basement.
The site is being redeveloped by The Max Barney Estate to provide Grade A office space. But first the existing building must be demolished and the site cleared. O'Keefe won the main contract for demolition and took possession of the site on 1st June 2018. It has since won the enabling works contract, which it has now started. The main contract for construction of the new building has yet to be confirmed.
Removing the old building was challenging as the structure abutted three neighbouring properties, which remained fully occupied. Narrow streets also meant access was extremely limited.
O'Keefe used a 47-tonne Komatsu high-reach excavator fitted with hydraulic jaws to pulverise the reinforced concrete frame and floor slabs. Smaller machines were used on the more sensitive areas next to adjacent buildings.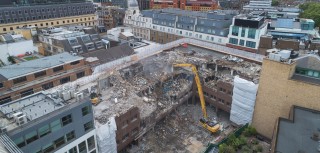 "The party wall issues were a challenge so we used smaller five-tonne machines with hydraulic breakers to break out the adjacent structures to the party walls to reduce vibration," says project manager Saguy Chetrit.
"We have installed hoarding and acoustic barriers to minimise the disturbance to neighbouring properties," he adds.

This is just as well, since on the rear elevation is a housing association apartment block with 20 flats that were built as part of the original development. They will remain occupied throughout the redevelopment.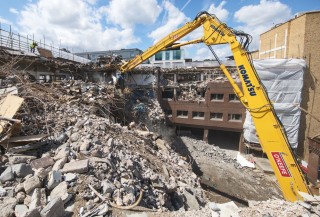 O'Keefe demolished the entire structure down to the basement slab, installing temporary steelwork to provide lateral support to the basement excavation. Piling specialist Murphy, sub-contracted to O'Keefe, then had to install numerous concrete piles, using a continuous-flight auger rig, to support the new multi-storey building that will eventually occupy the site.
"We had to break out the basement slab in sections to allow Murphy to install the piles while the demolition work progressed," says Saguy. "Basically we just had to work around each other, so organisation had to be spot-on to avoid problems and ensure health & safety."
Because of the need to install piles through the basement slab, and also construct a base to support the tower crane that will assist construction of the new building, it was decided to break out and remove the original basement slab entirely. A new slab will now be cast on top of the pile caps.
Conveying plant and materials to and from the site has been a major challenge.
"We can't get an artic truck in there so the Komatsu excavator had to be off-loaded in the street and tracked into the building," says Saguy. To prevent damage to the road surface, O'Keefe laid down a protective plywood mat along the route taken by the excavator.