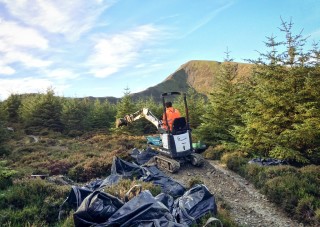 Derbyshire hire company UKD Diggers is in the news, having recently bought 18 new Bobcat mini excavators, from E10s up to E45s.
One of UKD Diggers' customers is Clixbys Forest & Environment Contractors, based in Oakamoor in Staffordshire. Clixbys generally works within a 150 mile radius of Oakamoor, predominately in North Yorkshire, Nottinghamshire, Derbyshire and Northamptonshire, but is increasingly further afield with projects as far apart as the Lake District, the West Country and Wales.
With mountain biking growing rapidly in popularity, building mountain biking trails has become Clixbys' core activity, making purpose-built cross-country trails to entice and excite riders of all abilities.
These trails are predominantly machine built using excavators, including Bobcat zero tail swing machines (hired from UKD Diggers) fitted with tiltrotator units for digging, shaping and grading versatility, after which the trails are hand finished.
Boss Hugh Clixby says: "We are often called in to repair and maintain existing trails. Recently, we used a Bobcat E10 micro-excavator from UKD Diggers to recondition a trail in the Whinlatter Forest in the Lake District. We first built this trail in 2008, using a 5-tonne zero tail swing machine – the trail is on a very exposed mountain top, with a steep side slope. Eight years later, the trail had become very narrow (600 mm in places) and completely natural in look and feel. We hired a Bobcat E10 from UKD Diggers and put our own Power Tilt pick-up on it, and due to its narrow footprint and zero tail swing, negotiated the trail and all its features (which included slab rock, rock steps, stone pitched drops and tree roots) brilliantly. You honestly couldn't tell we had taken a machine along the trail. After the E10 had finished, the trail was as good as new."
Clixbys is currently using a Bobcat E85 from UKD Diggers with a tilting bucket for mid-harvest repairs on Category A forest roads in Laughton Wood near Gainsborough in Lincolnshire. The E85 is being used to remove harvesting debris from the road surface, restoring the camber on the roads and resurfacing parts of the roads where necessary. The next job for the E85 is on a golf course in Berkshire.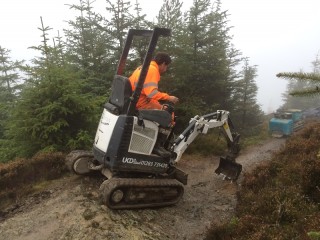 Clixbys' customers include the Forest Enterprise and many other management companies on a range of contracts, using Bobcat excavators rented from UKD Diggers for applications such as mounding on restock sites, de-stumping and site clearance work for major civil engineering projects.
Hugh Clixby adds: "We have purpose-built rake and thumb attachments for mounting on 360° excavators, as well as heavy-duty flails and stumping equipment. Our zero tail swing excavators and flail attachments are ideal for removing understory in mature woodland and re-spacing natural regeneration to produce a commercial crop. We work closely with the engineers, recreation departments and any local rider groups that may be involved. High-profile projects to date include the 38km Dalby red route, the new Kitchener trail in Sherwood Pines and the high-level, high-exposure and high-fun Altura trail at Whinlatter complete with the Rough Riderz descent.
"We have completed many projects in the Peak District National Park and surrounding area, working with the national park authority, the National Trust, Severn Trent Water, Forest Enterprise and Sheffield City Council. The projects have included all-ability trails, easy access paths, woodland walks and bridleway construction and improvements. We always use local aggregates, and thousands of people have walked, run, ridden and cycled over our work, which we fit perfectly into the local environment."