Operating plant and machinery since leaving school has been a passion of Stephen Beers who celebrates his sixth year working for himself. Starting out originally with a second hand Pel Job mini excavator, Stephen came back to the Volvo brand after a less than satisfying experience operating an alternative marque of machine. Having purchased his EC27C with an operating weight of close to three tonnes and 1900 operating hours later, he hasn't looked back and has been more than satisfied with his investment.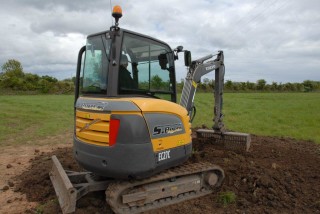 "As far as I'm concerned it's all there," exclaims Stephen. "The EC27C has a good roomy cab, it's comfortable to operate, responsive and easy to maintain. It's certainly the best decision I've made so far." And whilst he carries out the routine maintenance of the machine, a solid after sales support service is on hand from Volvo's utility dealer for Northern Ireland – Breezemount Construction Equipment. "The few small issues I've had have been dealt with quickly and efficiently and the support from Adrian McBriar and his team is first class," continues Stephen.
The EC27C has proven to be the optimum size of machine for Stephen Beers who undertakes general contracting work, excavations, landscaping and even hedge cutting. Enhancing the machine's characteristics he has amassed a various selection of attachment and implements including a sorting grapple, rake, hydraulically operated hedge cutter and selection of buckets

The relatively new EC27C replaces the previous EC25 and EC30 models. Powered by a Volvo 1.6 litre low emission Tier III the machine delivers the performance in the range of the previous Volvo EC30 – yet with a compact design reminiscent of the smaller EC25. The conventional excavator design provides exceptional stability along with minimal superstructure swing. Simultaneous control of slew and offset movements provides faster, more precise performance due to the right joystick control lever that features an electronically proportional roller. This allows the operator to accurately adjust hydraulic flow as needed. All hydraulic functions are performed in total independence for more control and less delay when handling multiple tasks. An automatic two-speed travel system engages when operating in high speed mode, automatically shifting gear from high to low according to the travel load. Another feature for increased efficiency is the standard auto-idling system that lowers engine speed to idle if a control is not used for five seconds. The engine reverts to the pre-selected speed almost instantly when any control is moved. This system delivers lower fuel consumption, longer engine life and less environmental noise.
The EC27C features Volvo's industry-leading comfortable cab for less fatigue and more production. The ergonomically-designed cab offers greater leg and foot room, making it one of the most spacious in its category. Again, this was an important selling feature for Stephen Beers being in excess of six feet tall. "Notching up 1900 hours in my first year with the machine means I'm in it for long periods of time, so a comfortable cab and good positioning of the controls is very important to me," says Stephen.