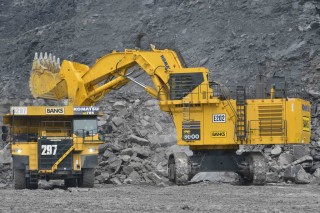 The five-year-old machine was delivered to Shotton by Komatsu Germany subsidiary KMG Warrington from previous owners at Hinkley Point, 350 miles away in Somerset. It was broken down into nine component loads for transport and then reassembled using a pair of mobile cranes. It took a team of three fitters seven days to put it back together and ready to work.
Family-owned Banks Mining is using the shovel to remove overburden to expose the coal at the Shotton site. It will later be used for the site's restoration. The PC3000-6 is working alongside a large number of Komatsu rigid haul trucks that already operate at Shotton.
Its Komatsu V12 diesel engine delivers 1260hp and a maximum breakout force of 1066kN for the 16m3 bucket.
As part of the deal with Banks Mining, KMG undertook the replacement of various wear parts on the machine including a new PTO gearbox and new injectors for the engine. An upgraded access system was installed along with supplying a new, heavy- duty bucket. Various hoses were replaced before it underwent a full service and planned maintenance clinic. The PC3000 will be looked after by KMG with a dedicated fitter stationed on site along with a stock of service items to ensure that the machine availability key performance indicators are met.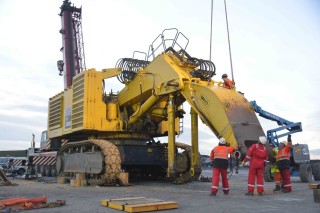 Banks Mining plant director Robbie Bentham says: "Enhancing our plant fleet with the required equipment is essential for helping our teams working our surface mining sites in the safest, most responsible and most efficient, low emission, way possible, and this is the latest investment that we've made in recognition of the skills and expertise that they bring to the job. We have a good relationship with the Komatsu team, and the reliability and quality of the product made it the right choice for this task."