Rob Williams, like so many of us, has been brought up around plant & machinery, with his father being an operator, it was only natural that Rob would follow in his footsteps. His career started with him taking up an apprenticeship as a plant mechanic, giving him invaluable knowledge on how engines, fuel systems, hydraulics and machinery work. After that the lure of the operator's seat became overwhelming, and Rob went on the work with various plant hire and civil engineering firms in the Dorset and surrounding areas, during which time he gained a lot of experience about groundwork techniques. Keen Digger Blog readers may recall our posts on Bartlett Contractors, where Rob worked in the past, and our post on his faithful Beagle Jake, who often accompanied him to work.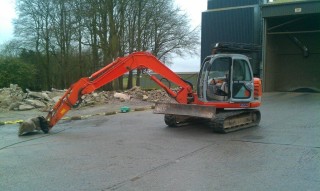 As with most good men, there is always a good woman behind the scenes, and in this case Rob's fiancée Fiona Fields, was the driving force behind the decision to set up in business. In Rob's own words, "It was Fiona who gave me the final push and we decided to go for it!" The business started off with Rob concentrating on operator only and groundworks, either on their own jobs or direct hire from private clients to big civil engineering firms.
In November last year they were made an offer by Rob's old boss at Bartlett Contractors, to purchase one of their excavators which was amongst a number of machines being traded in for a fleet of new Cat E series machines. The machine in question was an 8 ton class Fiat Kobelco E80, which was on offer at an excellent price. Having worked for Bartlett's for some time, and with Fiona still working for them in the office, they knew the history behind the Fiat Kobleco and thought it would be a good choice for their first machine. And so just before Christmas, they took delivery of the 8 ton machine.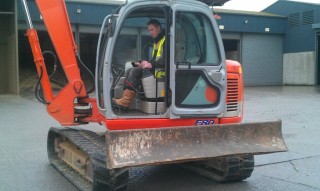 Rob and Fiona worked extremely hard as a team over the festive period, spending most of their time cleaning, touching up paintwork, and generally tidying up the machine, both inside and out in preparation for the New Year. The enthusiastic duo are now waiting for the machines first hire, which Rob describes as exciting but anxious times. But with Rob's proven track record in the industry that first of many hires will not be far away.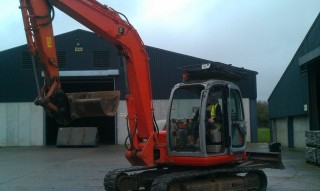 So if you are in the Dorset, Wiltshire and Somerset areas, Williams Plant are waiting for your call, offering a full plant hire and groundwork's service. Fully certified with CPCS, EUSR and City and Guilds qualifications and fully insured, as well as being health and safety compliant. Check out contact details on their Facebook page.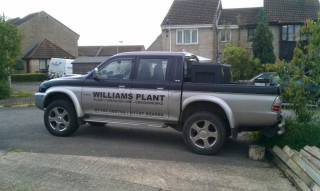 The Digger Blog wishes this fledgling business all the very best for 2013.