Plantforce has taken delivery of a pair of new 21-tonne Kobelco SK210 excavators in custom limited edition Plantforce colours, designed to make them really stand out on site.
The new Kobelco machines are fitted with the latest Trimble Earthworks semi-automatic machine control.
The Weston-Super-Mare-based company started out operating from a small yard in Yatton, Somerset in 1999. It began life as the hire fleet of equipment dealer Molson but was soon hived off as a separate entity.
By 2014 the Plantforce fleet had grown to over 500 machines and the company relocated to purpose-built premises in Weston-Super-Mare.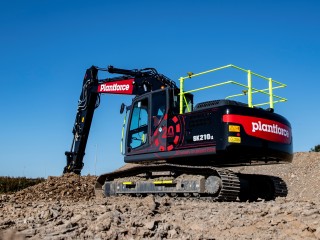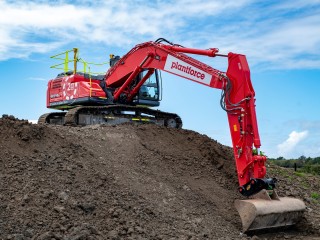 Recent significant developments include the acquisition of a controlling stake in the company by venture capital group BGF alongside original founders Jonathan Wilson and Robin Powell.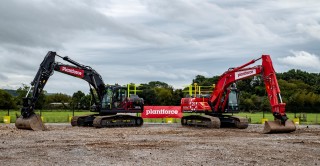 Plantforce managing director Claire Trott continues in day-to-day charge of the business, though, and also remains a shareholder.

BGF's entry came with a £4.7m injection of funds so when Hawk went into administration at the start of this year, Plantforce was in a position to step up.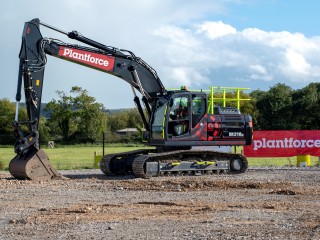 Plantforce had been working alongside Hawk at the nearby Hinkley Point C nuclear power station project in Somerset for the past four years.
Plantforce had 186 of its own items of plant at Hinkley Point at the time. It then also took over all of Hawks' 100+ machinery, contracts and infrastructure on the job as well.
Another development for the company came in April this year when it opened a new division in Bristol specialising in compact machinery and small tools, called Plantforce Compact.
"Hitting the 20 year milestone in such great shape is a fantastic achievement," says Plantforce operations director Sam Mercer. "The key to our remarkable success is our people. We are very lucky to have such a fantastically passionate and hard-working team. We have always been a pioneer with the latest technology on our machines and we are honoured to have such great customers with more coming on board all the time."
He continues: "We have grown our fleet every year since 1999 and this year we increased it by a further 30%. We are committed to having the latest technology on board but a major part of that commitment has to include a focus on training. That is why we have recently partnered with Sitech and Weston College in the Construction Training Centre. We look forward to continuing success in the next 20 years and beyond."