Plantworx this includes for the first time Railworx, a zone dedicated to rail plant and equipment. Other highlights include a classic plant exhibition and the Drone Zone, where visitors can see some of the latest drone technology being demonstrated in a dedicated Fly-Zone, including tethered and hydrogen-powered drones.
Here is our summary of some of the other Plantworx exhibitors, what they have told us will be on their exhibition stands and where to find them on the showground.
Abiljo Excavator Services – MA12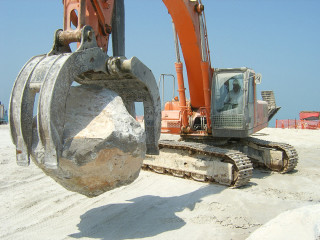 Abiljo manufactures attachments for excavators from 750kg to 90 tonnes operating weight. All of Abiljo's buckets and attachments are manufactured in the UK to the company's own designs. Abiljo says that its products are designed to deliver superior performance, rather than to beat the competition on price. Abiljo also imports the Finnish Multavex screening buckets and the Knikmops mini loaders from Belgium.
ABAX – ED8
ABAX is promoting its theft recovery GPS products at the show. The ABAX Equipment Control is the company's core product. In addition to protecting equipment against theft, the system also generates useful data such as usage reports, time on-site and service alerts as well as recording the location of the equipment in real time.
Ace Plant is exhibiting a selection of products from its range of bunded fuel storage and dust suppression equipment. These include the company's telehandler- and loader-mounted Quickspray dust suppression units and both towable and static versions of its Bundie Bowsers for storing diesel and AdBlue fuel additive. Ace Plant says that visitors to its stand you will be able to see what it considers some of the best methods to handle AdBlue safely and store it in the best condition.
Arrowhead Rockdrill – CA8
Arrowhead Rockdrill is displaying its R series hydraulic breakers. Launched in 2014, the R series now numbers 11 models from the 85kg R40 hammer for micro excavators up to the 1,600kg R140 for excavators up to 29 tonnes. Made at Arrowhead's engineering works in Chesterfield, Derbyshire, the R series features a patented hammer body design which eliminates the need for any side- or through-bolts. This body is encased in a compact vibration- and sound-suppressed cylindrical casing. Arrowhead is currently in the process of developing a larger model for excavators up to 40 tonnes. Arrowhead Rockdrill's R series is designed to deliver high impact power from a relatively low working hydraulic pressure. The company says that this maximises fuel efficiency and also reduces the working load on the carrier machine, thereby prolonging its working life. The company also offers the ACP series, four models of hydraulic compaction plates, along with the ACW range of rotary compaction wheels.
Arrow Machinery – AE16
Arrow Machinery is showing its Arrow 770 Kerbmaker which it claims can reduce concrete kerb extrusion times by 50% and the cost by 30%. A crew of three can extrude up to 400m of kerb-race per day allowing early access to the site.
Advanté – JF1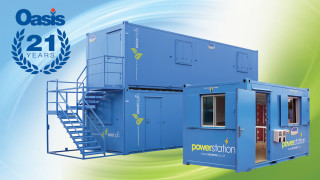 Site accommodation specialist Advanté is showing its Oasis welfare range. Oasis units are available in different sizes with more than 10 layout options. The company's latest developments include the Oasis Power Station, a multi-battery charging facility, and the Vision 19, a "two-plus-one" toilet block available with a shower or special "multi-faith" toilet designed to accommodate various religious washing rituals.
Air-Seal Products – FE8
Air-Seal Products says that one treatment of the company's tyre sealants can prevent up to 95% of all punctures up to 30 mm across and stop all rim, bead and other slow air leaks. They are widely used in HGVs, loading shovels, dump trucks and other heavy plant.
AJC EasyCabin – BG6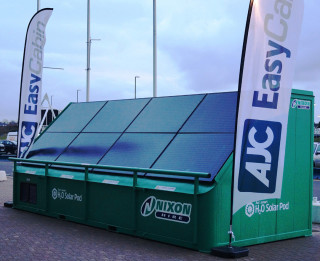 AJC is exhibiting an example from its range of welfare units powered by a combination of hydrogen fuel cells and an advanced solar power system. The H20 Solar Pod promises zero carbon emissions.
Armcon – EA3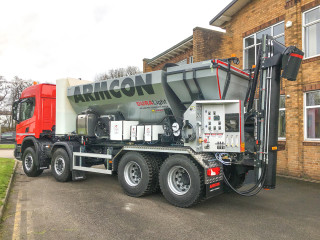 Changes to legislation has meant volumetric concrete mixers have had to drastically reduce their payload from 40-plus tonnes down to 32 tonnes. Armcon's response has been to create the Dura-Light machine, which it says can hold 8m3 of concrete while complying with axle weight regulations and an all-up vehicle weight of less than 32 tonnes. By incorporating Hardox and high-strength performance steels, Armcon claims to have improved the structural integrity and durability as well.
Alimak – PB1
Alimak's display features the firm's Scando 650 FC and Scando M Combi construction hoists, tied to a CAS common tower, alongside an MC 450 work platform and a TPL 1000 transport platform. The Scando 650 FC is one of the world's most popular construction hoists, says Alimak, thanks to a modular design that offers flexibility and efficiency. Alimak describes the Scando M Combi as "the rental fleet workhorse". Loading ramps can be place on three sides of the platform, allowing materials to be delivered directly to the workplace. It can also be twinned with all construction hoists in the Scando range. The new TPL 1000 personnel and material transport platform is part of Alimak's light range. With a payload of one tonne, its simple, flexible and strong design is suitable for all vertical access to buildings and scaffoldings. A further attraction for visitors to the Alimak stand is a virtual reality headset allowing users to encounter a Mammoth hoist working at Canary Wharf.
Access Platform Sales (APS) is promoting the Hinowa range of tracked access platforms for which it is the sole UK distributor.
Avant – H11 & H12
Avant says that its E6 is the first electric compact loader on the market with a lithium-ion battery. Both the battery and the battery management system were developed by Avant in partnership with Valmet Automotive. Lithium-ion battery technology provides up to 30% better performance compared to lead-acid batteries, says the company. In heavy use, the operating time is up to three times longer, it adds.
Atlantis Tanks – B5
Atlantis Tanks says that its PortaFuel and StoraFuel range offer the very best in terms of transportable fuel tanks for use in many different sectors to refuel machinery and as bulk fuel storage to service fleets of vehicles.
Aspen Fuel – MB3B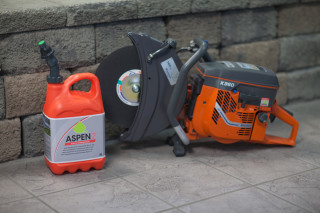 Anglo American Oil Company, UK distributor for Aspen Fuel, is promoting Aspen alkylate petrol, a direct replacement fuel for any engine which requires unleaded petrol or a two-stroke mix. Unlike normal petrol, Aspen is virtually free from benzene, a Class 1 carcinogen. The company claims that a two-stroke engine running on Aspen 2 will emit approximately 108 times less benzene compared to one running on normal petrol. Aspen 2 is a premixed alkylate fuel which eliminates the risk of users not mixing the correct fuel and oil for two-stroke equipment such as disc-cutters or chainsaws. Aspen is also available as a straight fuel replacement called Aspen 4. Whereas normal petrol starts to go off in as little as 30 days, with the risk of gumming-up carburettors as it goes stale, both Aspen 4 and Aspen 2 have a shelf-life of up to five years. Aspen is available from more than 400 locations in the UK and can also be delivered directly to your work site.
Auger Torque & Kinshofer – H13/H14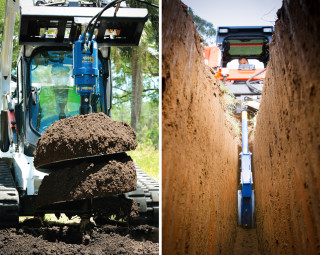 Auger Torque is displaying its range of earth drills which ranges from the compact and inexpensive 1200 to the powerful 65,000MAX – said to be capable of turning a 2,400mm-diameter auger through the toughest of earth conditions. The company is also exhibiting its patented Shock Lock system (a locking system that eliminates auger tooth loss), non-dislodgement shafts, wireless torque-metering for screw piling, constant-spiral boring heads and telescopic auger extensions. Also on show are some Auger Torque trenching attachments which can cut channels up to 1.5m deep and up to 350mm wide in one continuous operation. With three chain options, these machines can handle a wide variety of ground conditions and are popular with utility contrators. A new addition to the Auger Torque range is a variable mulcher designed for attachment to excavators and skidsteer loaders. With a cutting width of 1m or 1.5m, this attachment makes light work of clearing overgrown vegetation and reducing hedgerows and trees to ground level. Other products on display include stump planers, log splitters, skidsteer pallet forks, mixer bowl attachments and hedge trimmers. Auger Torque is sharing its stand space this year with fellow group company Kinshofer, which is promoting its NOX range of tiltrotators including the launch of two new unit sizes, the TR07 and TR11, together with the Noxprop CSP control system. This system is an advanced tiltrotator control system with numerous features including touch screen control, Bluetooth and GPS capability.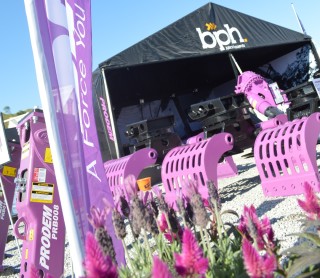 BPH Attachments is promoting its patented Proquick quick-coupler system at this year's Plantworx. Proquick claims to be the only quick-hitch to have a truly double-locking safety mechanism, 100% dirt protection and the ability to switch between all brands of attachments within seconds. The company is also demonstrating some of its best-selling attachments including the dedicated shear, selector grabs and hammer, as well as some of the latest Prodem-brand products. BPH says it offers the most comprehensive range of Prodem hydraulic attachments for hire and sale and also offers servicing and repairs on all brands of attachments.
Brendon Power-washers – DB8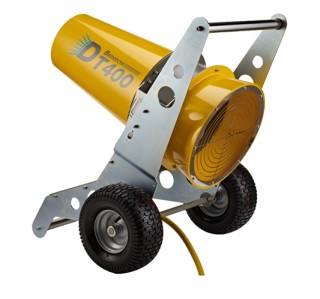 Brendon's Dustec DT400 water-powered dust- and odour-suppression system is designed to work as an attachment to the company's range of power-washers. It operates by using the water to drive a fan, which generates the air flow needed to help launch fine water droplets into the atmosphere. The company says that the water is then returned to the power-washer to be recycled or pumped to waste, ensuring a controlled amount of water is delivered for suppression.
Brigade Electronics – AA28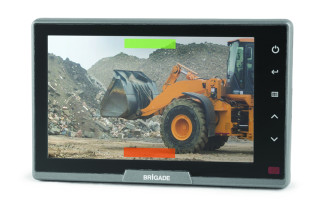 Brigade Electronics, a supplier of vehicle safety devices, is introducing its new Backsense radar on-screen display at Plantworx. The Backsense radar sensor systems detect people and objects in vehicle blind spots, significantly reducing accidents. Working in conjunction with a Backeye camera monitor system and up to two Backsense Network radar detection systems, the on-screen display module warns the driver of obstacles in the danger zone by overlaying 5-stage audible and visual radar data onto the camera image on the monitor.
Barrus – DC7/AE17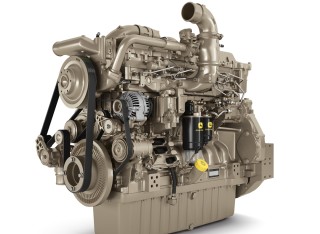 Equipment importer Barrus is displaying a range of engines from both Yanmar and John Deere. The Yanmar engines on display include the Japanese company's first units to be certified as compliant with the European off-road Stage V emission legislation that came into effect from January 2019. These include the L48V, L70V and L100V air-cooled models ranging from 3.1kW to 6.8kW power output. These engines feature both recoil and electric start facility. Six Yanmar variable speed, water-cooled models, in output up to 19kW, are also on display as well as two 1,500rpm fixed-speed models, the 3TNV88 and 4TNV88. All these models meet the new regulations without the need for after-treatment. Also ready to meet Stage V emission regulations, the John Deere engine range offers ratings of 36kW to more than 500kW with displacements of 2.9 litres through to 13.6 litres. Barrus says that John Deere's diesel particulate filter (DPF) technology has a long, fully-tested life cycle and offers users many hours of maintenance-free service, increased uptime and day-to-day reliability and durability. Barrus is also displaying a range of Chinese-made Loncin generators.
Bunkabin – CC1
Bunkabin is displaying its latest accommodation unit, the Bespoke Sleeper, which it says is the largest and most comfortable single sleeper in the market. The unit boasts an ensuite shower room, a full-sized refrigerator, a microwave and a wardrobe and desk space.
Briggs Equipment – NC7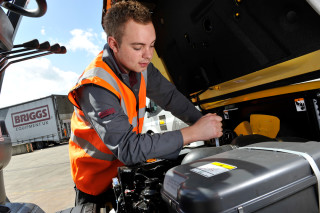 Engineering services and asset management specialist Briggs Equipment claims to have transformed the contract hire of industrial machinery. It provides materials handling equipment, industrial cleaning equipment, aerial access, groundworks and agricultural plant and machinery.
Brokk – B6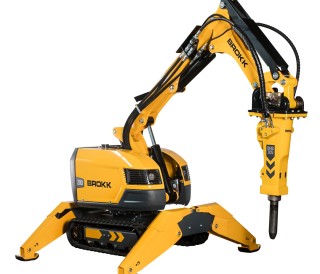 Brokk UK is returning to Plantworx with its biggest-ever line-up of remote-controlled demolition machines, along with demolition tools from Darda and Aquajet (a company recently acquired by Brokk). As the appointed UK distributor for Ecovolve electric dumpers, Brokk UK also has a full range of these battery-powered machines on its static display area. Brokk's award-winning Smartpower electrical system is also on display. This system is now found on the full range of Brokk machines, from the diminutive Brokk 70 right up to the mighty Brokk 500.
Boss Cabins – CB3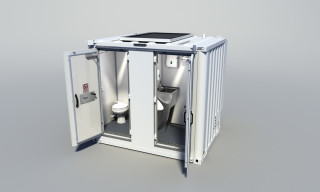 Boss Cabins is displaying its entire range of site cabins on its biggest Plantworx stand to date. The company is especially excited about its new line of portable toilets, dubbed Toilet Space. This product features WM Pro, a new patent-pending waste management system that harvests rainwater and uses "grey water" recycling to minimise water consumption and waste production. The company says that under heavy test conditions – during which 40 people used four toilets for 10 hours a day – the units needed emptying only once every five weeks. Boss reckons that in normal use this service interval could be extended even further. The company's Boss Shadow telemetry system remotely monitors waste, water and fuel levels so service visits can be planned precisely only when necessary. Boss Cabins is also unveiling new versions of some of its most popular mobile and static welfare cabins, now incorporating twin male and female toilets. This not only makes them more appropriate to modern workplace requirements but also compliant with the specific requirements of HS2. Another new product is Chillbox, a 14ft (4.3m) or 24ft (7.3m) high-security mobile refrigeration units suitable for events, hospitality and emergency breakdowns and aimed at the UK-wide hire market.
Capital Seating – LA3A
According to Capital Seating, its Actimo Evolution seat is the most comfortable seat for installing in wheel loaders and excavators. The seat is equipped with a low-frequency pneumatic suspension to compensate for vibrations and jolts plus a fore-and-aft isolator to minimise vibrations in the driving direction.
Certas Energy – K9B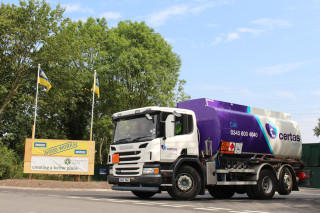 Fuel and lubricant supplier Certas Energy is the exclusive distributor of Shell GTL (gas-to-liquid) fuel in the UK. This modern fuel is a cleaner-burning alternative to normal diesel; it improves air quality and is suitable for both on-road and off-road use, says Certas. Shell GTL Fuel is said to be odour- and smoke-free, biodegradable, non-toxic and requires no engine modification. Certas Energy has partnered with Western Global to offer TransCubes, portable fuel tanks that can be moved easily between construction sites. These transportable bunded storage tanks come filled with fuel, reducing the health and safety risks of handling fuels on site. TransCubes include a full fuel management solution which reduces the risk of downtime waiting for a fuel delivery.
Contract Plant Rental – AA29
Contract Plant Rental delivers "bespoke, comprehensive contract plant rental solutions designed to meet the diverse needs" of its clients. The company offers medium- and long-term rental deals on plant and equipment, with a focus on the heavy end of the construction, aggregate and waste-handling markets. Depending on the specification, CPR can provide the customer with its choice of equipment and manufacturer with the full support of a team of fully-trained in-house maintenance staff. CPR can also offer a range of attachments and ancillary equipment to ensure the machine meets customers' needs.
Digga – BB7
Digga, which started life 38 years ago in Brisbane, Australia, manufactures over 70 different ranges of machinery attachments including auger drives, trenchers, augers and anchor drives suited for skid steer loaders, tractors and excavators, mini loaders and telehandlers. The firm's newly-refurbished 12,500m2 manufacturing facility in Australia, has the ability to produce up to 85% of components in-house, using high-quality materials.
Digbits – H37/H38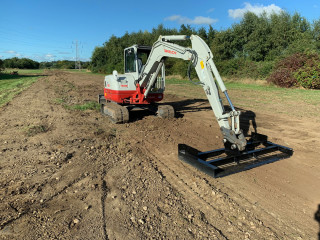 Digbits is promoting its grading beam, a versatile excavator attachment to enable a fast but precise level finish, at Plantworx. Especially effective across a large surface area, the grading beam is becoming a more popular alternative to the standard grading bucket, says the company.
Dawson Construction Plant – MB2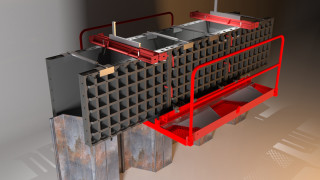 Dawson Construction Plant has revamped its DCP Redeb sheet pile capping system which it says is the only purpose-made capping system of its type. Because the system comprises only a few simple components, it can easily be assembled, removed and reused by unskilled labour, says DCP.
Doosan – JD3
A number of the products on the Doosan Construction Equipment stand are being shown for the first time at Plantworx 2019. They include the company's new Stage V DX27z, DX62R-3 and DX85R-3 mini-excavators, the latest version of the DA30 articulated dump truck and the new DL420CVT-5 wheeled loader. The new 2.7-tonne DX27z is one of two zero-tailswing models joining Doosan's range of mini-excavators, the other model being the 3.5-tonne DX35z. Both machines offer a "best-in-class" mix of stability, controllability and high digging forces, complemented by low weights for easy transport. Also appearing on the Doosan stand is the latest version of the DA30 30- tonne ADT, alongside the company's DL420CVT-5 wheeled loader and DX140LCR-5 crawler excavator. The DA30's suspension has been upgraded to a hydro-gas self-levelling system that provides improved performance and better shock absorption. The operator also benefits from a new Grammer Actimo XXL seat with its own independent low-frequency pneumatic scissor-type suspension system. The new DL420CVT-5 Stage IV-compliant wheeled loader is the first model in the Doosan range to be equipped with a continuously variable transmission (CVT) to provide a smooth and continuous speed variation. The complete driving range – both forward and reverse – is controlled by the CVT system. Low engine speeds ensure a high efficiency and the highest driving comfort irrespective of the traction speed. The power-splitting continuously variable technology facilitates moving off softly and hydraulically. Furthermore, with the CVT, a fuel saving of up to 25% can be achieved.
Datatag – FB16
Following initial demand from the plant hire sector in response to HS2 requirements, the CEA and Datatag have proposed a simple extension of the already widely-accepted CESAR Scheme. The Emissions Compliant Validation (ECV) programme provides the easy guidance necessary by adding a relevant tamper-evident and colour-coded emissions ID plate to a machine alongside the already applied CESAR plate.
Ecco Safety Solutions – AD330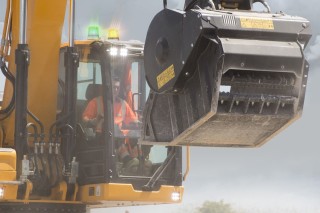 Ecco, a specialist in reversing safety products and amber warning lights, is demonstrating a number of new products on its Plantworx stand. The company says is can deliver customised safety solutions, from configurable lightbars to options and accessories the fit specific vehicles and work sites.
Elliott – CC2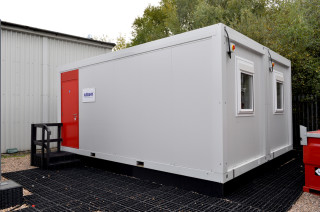 The Elliott Fireflex modular building system has been specifically designed to provide enhanced fire protection to help operators meet the requirement of the joint code of practice (JCOP) on the Protection from fire of construction sites and buildings undergoing renovations publication.
Elite GSS – EC6
Elite GSS is a specialist supplier of temporary access solutions such as ground protection mats, hardwood timber mats and steel plates. At Plantworx visitors will be able to see a variety of products including water-filled barriers and the company's new range of water bowsers.
Euroflo – JC8/JC13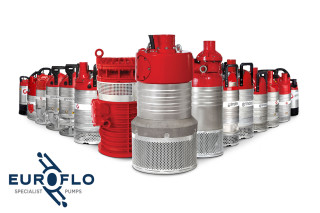 The Euroflo product range includes Grindex submersible pumps, dredging pumps and super-silent diesel pumps. Available for hire and sale the company's range of pumps is specifically designed for tough site conditions such as dewatering and piling applications.
Excavator Forklift is launching two new attachments for mini-excavators. The company says its lift-and-carry and lift-and-load attachments turn a mini-excavator into digger and forklift in one dual-purpose machine. Both attachments can be made to fit any size or brand of excavator and can be attached or removed in less than 30 seconds. These attachments increase the capability and productivity of small excavators, says the manufacturer. When connected, they enable a mini-excavator to lift, load, and carry loads up to half its own weight. This is said to be particularly useful on zero-swing excavators. Excavator Forklift says that its lift-and-load attachment has the potential to be used as an access platform and that it can also lift two or three times the load specified in the manufacturer's catalogue, at full reach, without over-stressing the hydraulics. This allows the digger to load and unload from lorry height or lift and carry palletised loads. Turning the toes over then allows extra height to lift slung loads. The slew function and side shift can be used together to make an affective sideloader to transport long loads, says the company. No extra controls are required on the base machine as the tilt function is controlled by the excavator boom lift lever and the forklift lift cylinder is controlled by the hammer controls.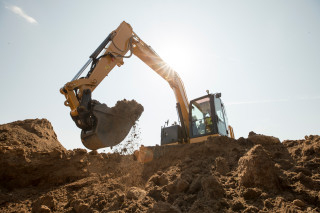 Caterpillar distributor Finning is focusing on the new range of award-winning next-generation Cat mini-excavators at Plantworx. The eleven new models in the Cat mini hydraulic excavator range start at 1.5 tonnes and extends to 10 tonnes – Caterpillar's first-ever 10-tonne excavator.
Filtration – AC8
Bristol-based Filtration is showing the Donaldson diesel filter cart, designed to provide a convenient portable mode of off-line filtration, flushing and fluid transfer. The in-series pressure filter provides fine particle removal and a water absorbing element removes moisture. The unit is fitted with a powerful 50 litre/minute pump for fast and efficient fluid transfer.
GKD Technologies – N5
GKD Technologies is exhibiting a range of height, slew and load monitoring systems at Plantworx. These include the company's new telehandler height limiter. At the Plantworx Simulation Zone, GKD is demonstrating its rated capacity system on a Tenstar simulator, alongside other machine guidance systems. The simulator allows the operator to set limits and see how the system would work before entering a machine.
Ground-Guards – FC9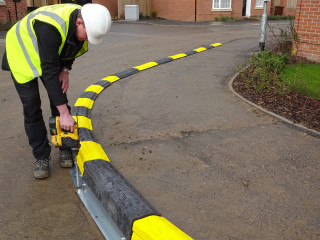 Ground-Guards is displaying its KerbGuard 400 and 900 kerb protectors, a new product aimed at house-builders. The kerb protectors are manufactured from 100% recycled PVC and are designed to protect the kerbs throughout the duration of the construction project.
Genquip Groundhog – B2
The Groundhog stand features a SWO7600 Fusion Pulse welfare cabin with solar panels built into the window shutters so that, when open, they can be manoeuvred into position to gain maximum benefit from natural daylight. Genquip says this increases efficiency by over 50%, thereby ensuring the on-board battery is charged more quickly and more efficiently.
Goldhofer – LA7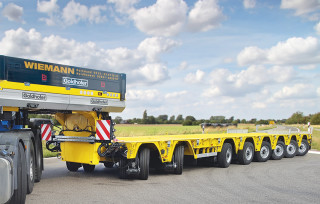 Trailer manufacturer Goldhofer specialises in heavy haulage solutions and offers a full range of dedicated accessories for on- and off-road operations with payloads of up to 15,000 tonnes. In addition to trailers and semi-trailers for the construction and haulage industries, Goldhofer also supplies transport systems for the wind power industry and a range of heavy-duty combinations with and without hydrostatic drive for transporting oversized and heavy cargos.
Hatz GB – DB1
The EU Stage V-compliant 3H50TICD diesel engine from Hatz is on show as an open power unit (OPU). The Hatz Silent Pack will also be of interest as it reduces noise by 60%. Visitors can also see the complete Hatz range that are certified for Stage V.
HPC Kaeser – LB1/LB2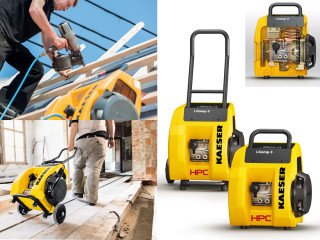 Compressor specialist HPC Kaeser is promoting its Mobilair M118 machine at Plantworx. The unit combines a highly-efficient HPC Kaeser Sigma Profile rotary screw air-end and a fuel-saving Stage IV Deutz engine to deliver clean air in low-emissions environments. The M118 features exhaust gas treatment with an oxidation catalytic converter and an SCR system.
Holmbury Group – AA26
Holmbury Group, a family-run business based in Kent, is a specialist in quick-release couplings. Best-known for its flat-face coupling design, launched in 1984, Holmbury's HQ Series remains a popular choice for many heavy construction equipment manufacturers. Customers include Caterpillar, JCB and Komatsu. Besides the familiar flat-face coupling, Holmbury also produces a variety of quick release couplings, check valves, ball valves and other hydraulic components. Today, Holmbury also has a factory in Ohio, USA.
Hugh Crane Cleaning Equipment – CE10
Hugh Crane is launching the Commando Rail Sandbox, which is designed to refill train sanding systems safely and efficiently, at Plantworx. With a choice of power options from 240v, 110v or compressed air, the Commando is mounted on robust all-terrain wheels with locking castors and features a heavy duty podwer-coated chassis and ergonomic handles to aid with transport. The on-board sand hopper features a debris mesh to prevent foreign objects entering the system when filling and a clear delivery hose to indicate sand transfer. The sandbox has a capacity of 86kg and has a transfer speed of 10kg/min.
Hydrema – JA1
Hydrema is launching a new seven-tonne articulated dump truck at Plantworx. Designed to comply with the UK safety regulations for site dumpers, the new Hydrema 707G offers all the benefits of a larger ADT but with the compact size of a site dumper and the low centre of gravity of a tracked machine, says the manufacturer. The 707G complies with ISO visibility standards and with one-step entry the operator need only take a single step to get into the cab and can remain seated while the truck is loaded.
Hook-Up Solutions – MA10/MA11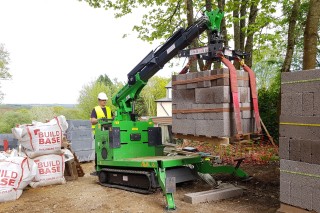 Hook-Up Solutions is bringing the Hooka – a revolutionary lift and carry crawler, back to Plantworx. At only one metre wide, yet with a lift and carry capacity of 1.5 tonnes, it offers construction companies / builders unrivalled access for delivering materials and installing I-Beams into the heart of sites – providing huge savings on time and money.
Hyundai Construction Equipment – H15/H16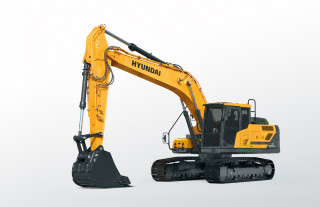 A wide range of machines is on display at the Hyundai stand, including examples from the Korean manufacturer's new A-range of machines. Taking centre stage will be the HX220A L (Stage V) crawler excavator, which includes EPFC, auto safety lock, eco-guidance and MG/MC. Hyundai will also have a demonstration area where machines can be seen in action.
Isuzu Truck – MA4
A specialist in light commercial vehicles, Isuzu Truck's product range extends from the 3.5 tonne Grafter up to medium-sized trucks in the 13.5-tonne category. The company's Driveaway truck range are available with a number of different body options including tippers and dropsiders. All of the vehicles in the range are capable of towing 3.5 tonnes.
Hire management software provider Insphire is launching a new product called the Operated Plant Module. This new piece of software allows customers to assign operators to jobs while cross-referencing the licenses, registration cards and qualifications they hold. It also offers operators the ability to enter timesheets on a mobile device, making it easy to track how many hours each operator is working. Insphire says this brings several benefits, helping to improve efficiency, eliminate paperwork, reduce subcontractor costs and even improve health and safety.
James Fisher Prolec – N9/N10
PMX is a new development in construction plant equipment safety and telemetry technology, says James Fisher Prolec. Conceived as part of strategy to improve worksite efficiency and safety, this product combines excavator hazard mitigation
and global geo-positioning systems to mitigate risk on a site-wide level. The resulting system can improve site safety, operational efficiency and cost reduction, says the company.
JCB – H43/H44

JCB is launching three new 13-16-tonne X-Series excavators, purpose-built for ground working specialists, at Plantworx this year. The 131X, 140X and 150X models feature the robust durable design, increased productivity and improved operator comfort and ease of use that JCB says are hallmarks of the X -Series. Key features include a wider operator's cab for all-day comfort, in-cab noise reductions of up to 68%, modern styling with durable strike points to reduce total ownership cost and increased diameter high-flow pipework to boost efficiency. The two larger models also deliver a 6% improvement in tonnes-per-litre productivity, says JCB.
K-Form – AD9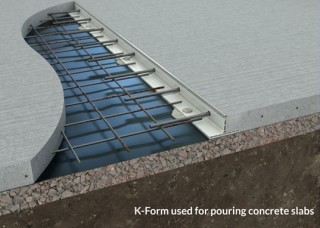 K-Form says its PVCu screed railing provides concreting contractors with an economical, efficient and environmentally-friendly alternative to steel shuttering. Made from recycled materials, the K-Form system is lightweight, durable and does not require removal after concrete pouring.
Kubota – K8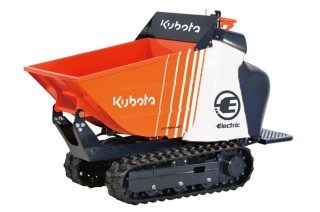 Kubota is showing its new KC70-4e electric mini crawler dumper at Plantworx. This machine is said to be capable of the same high performance as equivalent machines running on diesel or petrol while allowing users to work where gas emissions or noise levels are restricted. The KC70-4e is equipped with a lithium-ion battery (48V/200Ah) and has a payload capacity of 700kg. With a width of 750mm the electric mini dumper is able to enter buildings with ease.
Leica Geosystems – EB3
The theme of the Leica stand at Plantworx is 'connected construction'. The company says this is all about "capturing reality, design and validation through to construction, as-built verification and maintenance" but you'll have to visit the stand to find out what that means. Visitors to the stand will be introduced to Leica's new cross-machine all-in-one 3D machine control software, MC1, as well as a number of new products.
Linco – CG1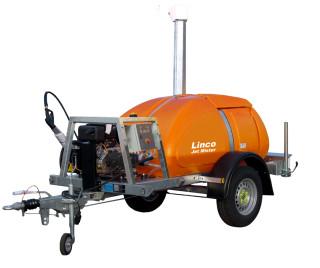 Linco is launching a range of industrial dust-suppression equipment at Plantworx. These include the Spray Cannon range of mobile and static cannons that can throw a mist of water up to 150m. They are equipped with variable-speed fans and water pump motors to blow the mist where it's needed. Linco's Multi Mister is a hose-line misting system that can be fitted in very short time to tackle unexpected dusty sites. The Jet Mister is a trolley- or water bowser-mounted pressurised pump that will squirt water up to 35m. It has a mast-mounted auto-oscillation feature. It is ideal for demolition work, says Linco, with its heavy duty galvanised frame capable of withstanding rough treatment on site. Linco's Hot Wash and Cold Wash systems complement the company's dust and dirt suppression machines. The range incorporates diesel and electric, static and mobile hot pressure washers built to tackle extreme dirt.
Machinemax – AB19
Machinemax is described by its manufacturer as a 'revolutionary' wireless telematic device that allows users to take control of every machine in their fleet. Machinemax captures live machine data which can be used to help reduce fuel consumption, CO2 emissions and maintenance costs. Installation takes less than a minute thanks to the product's wireless design. It is IP68 rated and built to withstand the harshest conditions, says the company. Once set up, the system starts monitoring the machine immediately via the special app.
Taking centre stage on the MHM Plant stand is the MGTP 10000 solar hybrid generator, which produces 10kVA of power via its solar panel, battery pack and diesel engine. The MGTP 10000 will be joined by the X-Pole Solar and the X-Solar Hybrid lighting towers.
MBW Europe – FC1/FC16
MBW Europe's ATS and ATP roller-compactors are designed for attachment to skid-steer loaders and are said to be an effective, low-cost alternative to purpose-built rollers. All MBW's rollers come with a universal quick-attach system for fitting them to a skid-steer loader and are available in either 1,850mm or 2,130mm widths. The ATS and ATP rollers feature a patented design which the company says minimises deflection, ensures lower operating temperatures and results in very low risk of bearing and seal failure.
Messersì – FD8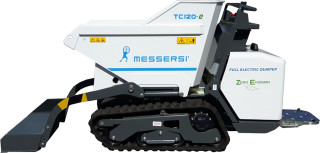 Italian firm Messersi is showing its new TC120-e full electric remote control tracked dumper at Plantworx. The model on display is a 'special' version of the standard TC100d featuring an extra wide-footprint undercarriage for high stability and optimum driving comfort in all conditions. Electric transmission is powered by two inverters, two electric motors and two planetary gears.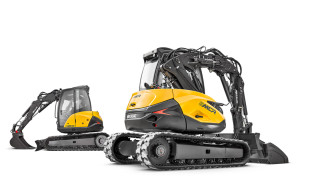 In 2018, Mecalac began an ambitious R&D project with the intention of redefining the compaction roller market. Visitors to Plantworx will be able to judge whether the company has been successful by inspecting the all-new TV1200, which is controlled with a joystick on the right-hand side console. Mecalac says that, by removing the roller's steering column, it has revolutionised the access and driving style of this type of vehicle. By offering joystick steering from the right console, the TV1200 offers safer, simplified driving. In addition to the TV1200, Mecalac is displaying various other new developments including the updated MCR tracked excavator, and a new three-tonne cabbed site dumper.
Magni UK – DC3
The new Magni RTH 8.25SH is said to be one of the heaviest capacity rotating telehandlers in the world. This model can lift 5.3 tonnes to a height of 25m and one tonne at 21m outreach. Despite its performance, the RTH 0.25SH is said to be very compact and weighs just 24 tonnes.
MCS Rental Software – AA23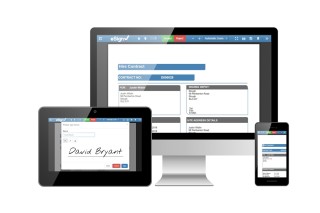 MCS is featuring its MCS-RM hire management software at this year's Plantworx. MCS-RM is designed to help hirers of all size increase their efficiency, improve asset utilisation and reduce costs, says MCS. The software has additional functionality built-in, including a "telematics hub" and "E-Sign" digital document signing functions. E-Sign electronic signatures allow hire firms to reduce trading barriers with their customers by letting clients view, digitally sign and return quotes and contracts securely without the need for paper. Signed documents are instantly available to the rental business within their central MCS-RM operational system. MCS is also demonstrating its complete suite of mobile apps tailored to the role of the end-user. Its mobile solutions cover multiple aspects of the rental operation including the workshop, sales, transport, warehouse and even the depot.
Miller – H26/H27
Miller is launching what it claims is its safest, most innovative quick coupler: the GT Series. The GT quick coupler features an 'Intelligent Coupler Connect System' as well as a new ISO-compliant locking system devised to ensure that the widest set of OEM pin pickups can be attached safely, even if there is a loss of hydraulic power.
Merlo – DA3
Merlo's Roto range of telehandlers were among the first to feature a rotating turret system that slews through 360o without having to reposition the machine. The latest Roto machines comprise three ranges, all of which feature new "high-comfort" cabs and modular construction.
Manitou – CB1
Visitors to the Manitou stand will find a range of new and improved models from the French company's range of telehandlers, rotating telehandlers, rough terrain forklifts and compact construction equipment. Pride of place goes to two new telehandler models fitted with Kubota stage 5 low-emissions engines: the 9m-reach MT 933 and the 18m-reach MT 1840. The company's growing range of rotating telehandlers is represented by the MRT 3050. Two popular telehandlers, an ultra-compact MT 420 and the popular MT 625, will represent the firm's compact materials handlers designed for sites with limited space such as builders' merchants and house-building sites. The stand will also feature the heavyweight MHT 10130, capable of lifting 13 tonnes with a wide range of attachments. Manitou is also exhibiting an MLA 516 telescopic loader with a lift capacity of 1.6 tonnes to 3.8m. The company says it's a viable alternative to a conventional twin-armed small articulated loader. Finally, the new Manitou 2700 V skid-steer loader will make its first public appearance at a UK construction equipment show.
Multimatts – EC3
Multimatts is showing its range of commercial and industrial matting products available for hire and sale. These range from temporary access mats and portable roadways to ground support and stabilisation products and event and industrial flooring systems.
Montracon – NA6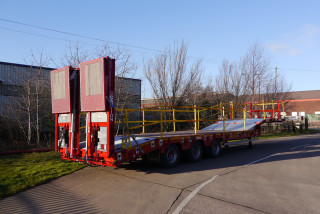 The new MT45 machinery carrier from Montracon is based on a standard-specification base platform with a range of optional modules to provide a trailer with good load versatility. The MT45 is plated up to 45 tonnes gross trailer weight and includes a low-profile trailer neck coupled with a reduced-incline air operated neck ramp.
Molson Compact Equipment – H45/H46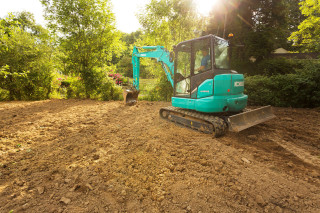 Importer Molson will be showing models from the latest range of Kobelco compact excavators at Plantworx. Ranging from 0.8 tonnes to 9 tonne in weight, these machines have a reputation for operational smoothness, low noise levels, reliable construction and low fuel consumption, says Molson. Visitors to the stand will be able to try out four models on the demonstration plot and can also try their hand at a number of operator challenges. One of these models on display is the brand new SK75SR-7, launched last month.
Morris Leslie - H30/H31
Importing and exporting to more than 50 countries, Morris Leslie Plant Sales has acquired a reputation for providing quality equipment at competitive prices. Displayed on the company's Plantworx stand is a range of its current inventory of equipment from industry leading manufacturers including JCB, Manitou, Volvo, Kubota, Hitachi, Case, CAT, Bomag, Mecalac, Thwaites and Hamm. More than 2,000 nearly-new and low-hour machines are available for sale in 2019 direct from Morris Leslie Plant Hire's modern hire fleet, including telehandlers, excavators, dumpers and rollers. The company has recently launched new preparation centres at Bedford and Birmingham where incoming machines are serviced ready for sale in optimal condition.
The HR12L self-propelled cherry-picker, displayed on the Niftylift stand, was developed as the 'low-weight' alternative to the firm's existing HR12N. The new model was specifically designed to be light enough to be transported on a trailer, allowing smaller hire companies to transport it without the need for significant investment in larger vehicles. At 2,540kg (with a 2470kg Lithium-ion battery option available), the HR12L is significantly lighter than its competitors says Niftylift.
Nooteboom Special Trailers – H30/H31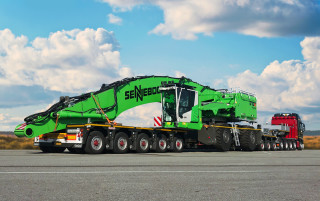 Nooteboom designs and builds trailers with payloads from 20 tonnes to 200 tonnes. The product range includes semi-trailers, low-loaders, drawbar trailer and semi low-loaders. At Plantworx the company is promoting its three main product ranges. The Eurotrailer range of low loaders comprises power steered low loaders, up to 10 axle lines, with many options that can be tailored to meet clients' specific needs. Multitrailer semi-low loaders are multifunctional units are used to transport excavators, road construction machinery, watercraft, work platforms, crane parts, steel and pre-cast concrete structures. Semi-low loaders are available up to 10 axle lines and up to 3-fold telescopic. The Teletrailer range of semi-trailers are used to transport any long, self-transporting load from concrete and steel structures to wind-turbine rotor blades with maximum efficiency and the lowest possible transport costs. These semi-trailers feature a flat, extendable bed and a hydraulically controlled fifth wheel steering.
Padley & Venables – AA19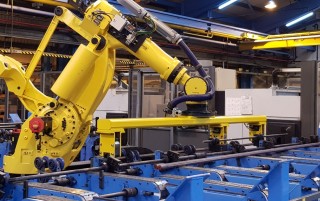 Tool-maker Padley & Venables is exhibiting a range of products including tunnelling/drifting and extension drilling equipment, shank adaptors, couplings, drill rods, tungsten-carbide-tipped drill bits and reaming equipment, integral drill steels, taper rods and bits and tube drilling systems. P&V also manufactures a wide range of high quality demolition tools for use with most types of boom-mounted hydraulic breakers, in addition to the manufacture of contractors' tools for use with pneumatic and electric hammers – many of which are used in the road construction and rail industry. P&V products are made in Sheffield.
Pavemac – PB19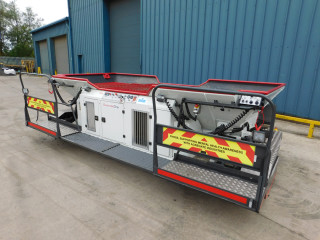 Pavemac is showing its KS12-16 Extendachip, a new design with a focus on safety. A review of past incidents surrounding chipper operations has led to an investment into the improvement of the aggregate chip spreader. Operational reliability, enhanced controls, manoeuvrability and ease of operation were central to the development of the KS12-16 says the company.
Peli – AD23
Peli is launching its 9600 LED system, a linkable system of work area lighting, at Railworx. The 9600 LED system is designed to illuminate long stretches of road, railtrack and tunnel without the need for conventional heavyweight lighting towers. Peli says the product is "at least twice as efficient" as traditional fluorescent lighting, compared to which it can illuminate twice the work area from any given generator. The Peli 9600 can be mounted to fences, suspended overhead or erected on its own stand. A compact interlocking stacking system keeps multiple units safe and secure in transit or storage, says the company. The full range of Peli portable lights will also be on display, many of which now feature an "intelligent control" function that adjusts the light output according to the length of light duration required. These lighting units are easy and quick to set up and are silent in operation.
Perkins – DA7
Engine manufacturer Perkins is showing its new 1204J-E44TA diesel at Plantworx. The four-cylinder, 4.4-litre engine meets EU Stage V and is available in multiple power ratings from 82kW to 150kW with peak torque reaching 825Nm.The company says the engine is ideal for equipment manufacturers who are looking to downsize because it offers significant machine productivity benefits with 15% increase in power, 10% more torque and 5-10% reduction in fuel consumption.
Portakabin – CB2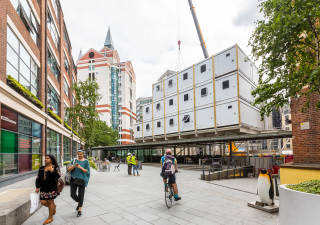 Portakabin is exhibiting its Konstructa modular fire-safe building which offers high levels of fire protection for construction sites. The modular building also benefits from reduced energy costs and carbon emissions, having an EPC A rating.
Prinoth – LB5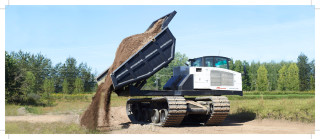 Another supplier of tracked dumpers, Prinoth is introducing its range of machines to the UK market at Plantworx. The range is represented here by the Panther T14R rotating dumper which Prinoth says offers high speed combined to the highest payload of any vehicle in its class.
Probst – LA1
Probst makes lifting attachments, and pride of place on the company's Plantworx stand is the RVD concrete pipe lifter, designed to eliminate the need to manually sling or chain pipes when unloading them from a lorry bed. Another product on show is the TM tracked vacuum laying device which picks up a pack of concrete products and is especially useful when laying stretches of concrete kerb. Also on show is a range of mechanical block grabs and both battery and petrol-powered vacuum lifting devices. Probst is planning a series of working demonstrations during the three days of the show.
Promax Access – N1
Promax is launching a new RR14 EVO-2/400 hybrid road-rail access platform at Plantworx. Powered by a Hatz Tier-5 diesel engine and a 400Ah lithium-ion battery pack, the new hybrid model has an on-board management system and charging facility. The RR14 EVO-2/400 model is designed to work on a 200mm cant and features an auto-levelling turret which Promax says is unique.
Radiodetection – AE28
Radiodetection supplies equipment for locating buried underground services. At Plantworx it is showing Pearpoint's Flexiprobe P540c, a simple-to-use pushrod inspection system for underground pipes. Intuitive menus and dedicated function buttons make for quick, efficient surveying and reporting, says Pearpoint. Built-in templates create reports that comply with multiple standards and which can be shared via email, DropBox or USB.
Red Rhino Mini Crushers – DB11
Red Rhino's new 5000 Plus and Screener Plus models are making their Plantworx debut this year. The latest Red Rhino 5000 Plus model is fitted with a vibrating feeder tray and powered by a Kubota 05 Series 4-cylinder diesel engine. The Red Rhino Screener Plus is an upgraded model of the current screener which has extended conveyors which gives increased stock pile capacity.
Rhinox – DB14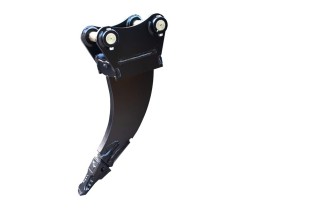 Amongst the Rhinox attachments on display at Plantworx is the new Ripper tooth which Rhinox says can be used in the toughest of applications without fear of breaking the ripper attachment. The Rhinox ripper teeth are available for machines from 0.75 tonnes up to eight tonnes and are useful for stripping our tree roots, rocks and other hard-to-remove objects.
Attachments manufacturer Rototilt says that a tiltrotator completely changes the way of using an excavator, transforming it into a multi-tool carrier. The company says that, until last year, it was only possible to use a tiltrotator with excavators of up to 32 tonnes. But now Rototilt has introduced its new R9 model which is said to be the biggest tiltrotator on the market and suitable for use on excavators up to 40 tonnes.
RSP UK – FA7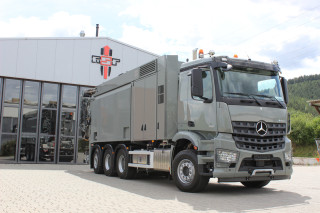 Suction excavator manufacturer RSP UK is exhibiting its ESE6 at Plantworx. The ESE6 is a versatile machine that can be mounted on a 32-tonne tridem or 26-tonne three-axle chassis. Its twin fans can extract material from a depth of 45m and up to a distance of 120m, allowing safe operation away from the work-face.The ESE6 is fitted with a 6.10m articulated power arm hose discharging into an 8m3 spoil container. RSP says that the machine is suitable for daily use on rough and heavy material and is an ideal solution for construction sites.
Seddon Plant & Engineers – LB4
The Bolton-based distributor and manufacturer of equipment for the construction, ground-care and associated hire markets is displaying a selection from its latest range of products including compaction plates, cut-off saws, generators, mixers and water pumps. Products from leading brands such as Altrad Belle, Honda, Husqvarna, Stihl, Taskman and Winget feature in the display which also includes a range of concrete finishing equipment. Among the new products on display is a range of Taskman petrol and diesel pressure washers including a 120-litre mini water-bowser washer which is designed for use when mains water is difficult to reach. Seddon is offering a number of special Plantworx deals and experienced staff will be on hand to answer questions relating to construction equipment, ground-care machinery and replacement parts.
Siltbuster – DA1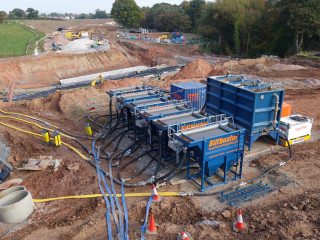 Water treatment and filtration specialist Siltbuster aims to demonstrate that there's more to water treatment than just equipment. The company is exhibiting its Clarity system, a new real-time monitoring system which gives contractors and subcontractors continual and accurate information on how their on-site water treatment is performing.
Sitech – AE30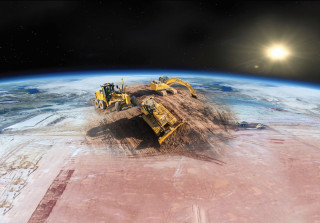 Sitech is bringing its latest in-machine control technology to Plantworx in the form of the Trimble Earthworks grade control platform. This next-generation control system is designed to optimise any mixed fleet and create an integrated site solution. With a simple and intuitive platform utilising Android UI on a 10-inch touch-screen, visitors can learn more and trial the system on the company's simulator.
Scanprobe Techniques – AC14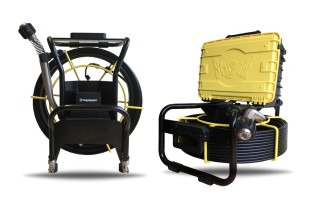 Mina is a new mobile app from pipeline inspection specialist Scanprobe. The app is designed to complement the company's pipeline inspection systems and can be used by anybody, irrespective of whether or not they are an existing Scanprobe customer. Mina gives the user the ability to perform a few value-added operations that improve the clarity of their pipeline inspection survey says Scanprobe.
Slanetrac – H24/H25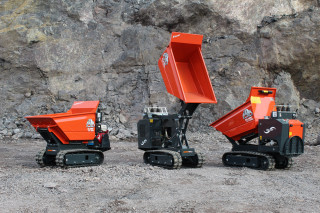 Irish manufacturer Slanetrac is exhibiting its HT1000 range of mini tracked dumpers at Plantworx. There are currently three models in the range, which was launched in 2005. The HT1000 Contractor is 750mm wide and has a one-tonne capacity and high-tip capability. It is powered by a 10kW Honda GX390 electric-start petrol engine. The Slanetrac HT10000 Compact is powered by the same Honda petrol engine but is narrower, at 700mm, to make it easier to use in tight spaces. It has a payload of 910kg. The third model in the range is the HT1000S Silent. This is powered by a Kohler KDW702 12kW twin cylinder water-cooled diesel engine. This has the same dimensions and payload capacity as the HT1000 Contractor but is quieter. Slanetrac says these three machines are the most compact dumpers in their class.
Stock Sweepers – JF11
Stock's new Quadvac road sweeper features the most advanced road sweeping technology, with the highest standard specification of any machines in the current market – says the manufacturer. The rear suction nozzles follow the ground contour with high pressure water which allows for thorough cleaning performance even with surface imperfections.
SMT GB – B1
Volvo Construction Equipment distributor SMT is showing the new Volvo EC60E excavator, the replacement for the outgoing EC55C. The more powerful and productive EC60E is built for comfortable, efficient operation in a wide variety of applications, says SMT. The new machine offers improved traction, excellent swing force and high lifting capacity to achieve outstanding results fast. With a compact design, long arm, and optional fixed boom and offset boom, the EC60E is suitable for a large range of applications.
Tobrocco-Giant – BE7/BF6
Tobrocco's stand features the company's general purpose Giant skid-steer. Suitable for construction, demolition, road and path maintenance and many other uses, the Giant can be used to clean, sweep and demolish. This ultra-compact machine has a minimum width of 760mm and a lifting capacity of 350kg. It can be equipped with an integrated diesel particulate filter to reduce emissions by 90%. When working with hydraulically driven attachments, such as rotary mower, sweeper, or hydraulic hammer, the machines can be equipped with a double-gear pump.
Storth Machinery – JG3
Storth is exhibiting at Plantworx for the first time this year, with a display of British-made products suitable for water and waste-management purposes. These include hose reels, hydraulic pumps and engine pump stations.
Takeuchi is featuring a new towable mini excavator on its Plantworx stand. The company reckons its new 2.25-tonne TB225 is ideal for tool hire companies looking for a towable mini that sits safely within trailer towing limits. The machine was specifically designed to meet the growing demand by hire companies who wanted a heavier Takeuchi within trailer towing weight. Available in both cab and canopy versions, weighing just under 2400kg and 2265kg respectively, the machine is compact, allowing plenty of room for extras on the trailer. The machine also comes with an integrated trailer tie-down.
Sterling GP – CA6
Sterling is displaying its new ST440 step frame low loader trailer. The first models on display are configured primarily for access platform transport and boast feature such as full dual-serrated galvanised mesh decking to maximise traction and widening handrail safety systems. Ultra-low loading angle, sliding double flip ramps and high payload are also important features for transporting access platforms, says Sterling.
Taylor Construction Plant – RJ1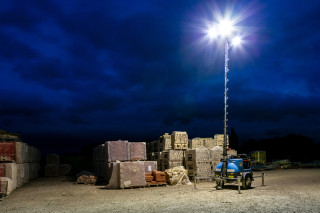 Taylor Construction Plant (TCP) specialises in hydrogen fuel cell/battery hybrid products for the construction, rail and highway industries. Its range includes lighting towers and generators that produce no carbon emissions and are virtually silent in operation. Among the products displayed on the TCP stand is the EcoliteTH200 hydrogen fuel-cell lighting tower, developed in partnership with BOC. This product uses prismatic lenses to minimise light pollution and unwanted glare. Alongside this is the Ecolite WH2 which provides compact local task lighting with additional hand-tool power supply. Another product on show is the Ecolite CCTV hydrogen fuel-cell tower, designed for temporary site security with remote monitoring and on-site recording. TCP is also demonstrating a welfare cabin unit powered by solar PV and the ECO GH2 hydrogen DC power generator working alongside the LGP 2500 power pack. TCP says that combination of products is a "clean-air alternative" to a 5kW diesel generator.
TDL – H28/H29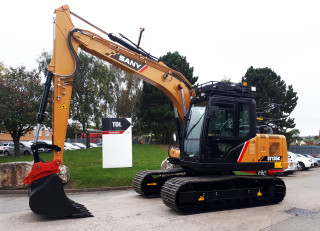 Equipment dealer TDL is exhibiting machines from five different manufacturers – Genie, Terex Trucks, Mecalac, Sany and Atlas – at Plantworx this year. Among the highlights of the display are several Sany excavators including the SY26 mini digger and the SY135 and SY215 tracked excavators. These excavators are being put to work in the demonstration area and example are also on static display on the TDL stand. Among other machines on the stand is an Atlas material handler and a Genie 2506 compact telehandler.
Trackunit – AB17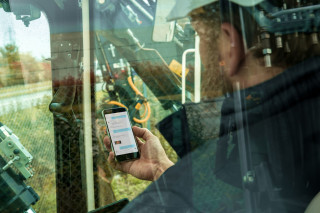 Trackunit Go is described by the manufacturer as a "one-stop shop for actionable insights for fleet owners, managers and service technicians". The device is claimed to provide a solution to some of the most common problems in the construction industry namely unauthorised equipment access and use, equipment theft and unplanned downtime.
Teletrac Navman – AB28
Teletrac Navman has recently launched its Site360, a unified telematics system designed to meet the evolving needs of the construction sector. The new platform equips construction businesses with the hardware and software needed to manage multiple assets, including plant, equipment, tools and HGVs, at any one time, giving accurate real-time reports via a desktop or mobile device.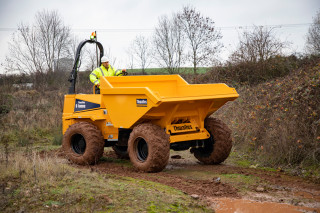 Taking centre stage on the Thwaites stand is the company's new six-tonne forward-tipping dumper with improved operator visibility for safer operation. Thwaites is also launching a new after-sales service at Plantworx. Maintenance and after-sales videos offering support and advice on machine maintenance can be downloaded via a QR code from the machine to the operator's, or service engineer's, mobile phone. The videos explain how to carry out daily checks, maintenance and servicing.
Tufftruk – LB7/LB8
Tufftruk is bringing its new Truxta range of battery-powered mini dumpers to Plantworx. The compact and portable Truxta Bendie allows access into the most environmentally sensitive areas allowing eight hours of continuous operation with zero emissions. The compact battery unit, which has an in-built charger, also provides almost noise-free operation.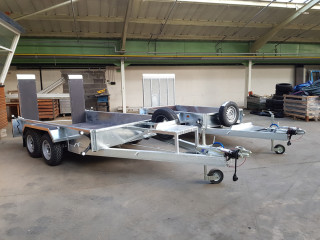 Taylor is showing its original checkerplate plant trailer. Also on display is a newly-developed mini excavator trailer, a single-drum road roller trailer, portable toilet trailers and a new mobile welfare unit relaunching the company's Mr Mobile range.
Tracked Carriers – CE9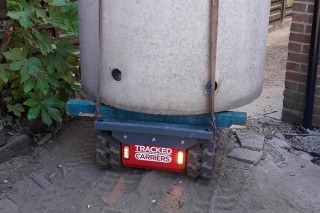 Essex-based manufacturer Tracked Carriers, exhibiting at Plantworx for the first time, is presenting a range of its machines designed for carrying heavy, bulky items. The products are all electrically-powered and are easy to service and maintain, says the company. The machine do not carry any accessible fluids such as battery acid, oil or grease, and so no modifications are required for use in environmentally sensitive areas or where spills are prohibited. Direct AC drive and the latest control systems offer ultra-smooth and quiet operation, while the remote control display screen shows live information so the operator can monitor speed, inclines and battery life from a safe distance. Visitors will find the entire range of machines, including the new 500kg-capacity Beaver 05.06 which is just 600mm wide, and the Beaver 20.09 which can carry 2,000kg and is just 900mm wide. Tracked Carriers will also be running live demonstrations of the machines' ability to climb stairs and inclines up to 45o degrees.
UK Power Networks – AD2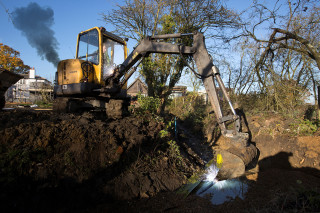 Electricity distribution company UK Power Networks is appearing at Plantworx to promote its "Be bright, stay safe" campaign to highlight the risks associated with underground electricity cables. Construction workers can be in danger of electrocution when carrying out everyday activities such as drilling and digging in the vicinity of buried utilities. The new campaign urges trades people to contact UK Power Networks in advance of works to obtain cable plans or to request disconnections. The company's 'education and engagement' team is on-hand to provide advice and circulate guidance for those carrying out work close to underground cables.
Webtec – AC27
Fluid power specialist Webtec has recently puclished an Introduction to Practical Hydraulic System Maintenance, a new guide for all fluid power technicians. This publication is intended to help educate technicians and engineers new to hydraulic fluid power maintenance and hydraulic engineers. All profits made from the book will be donated to support education in STEM (science, technology, engineering and mathematics) subjects.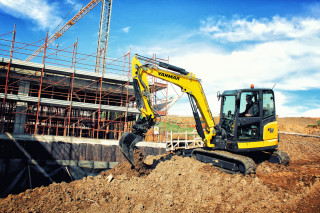 Yanmar Construction Equipment Europe (CEE) is showing several machines from its range at Plantworx. These include the SV60 midi-excavator, featuring the company's X-shaped undercarriage design and VIPPS hydraulic system for smooth operation. Eco-mode and auto-deceleration technology reduce engine emissions, while the ECU manages engine speed according to torque and load – thus reducing fuel consumption. The C30R-3TV tracked carrier is powered by Yanmar's Stage V-ready 4TNV88C-KFW&