A total of 70 limited-edition 70th birthday 3CX Pro and 4 CX Pro (pictured above) machines will be manufactured.
The first JCB backhoe loader was manufactured by Joe Bamford in 1953 by combining a lightweight backhoe with a Major Loadall tractor loader. It created a machine that combined a front shovel and rear excavator arm.
JCB mythology has it that Bamford invented the backhoe loader, but US manufacturers Wain-Roy and JI Case would dispute that claim. Bamford was certainly a pioneer, however, and made the name JCB as synonymous with backhoe loaders as Hoover was with vacuum cleaners.
It took 20 years for JCB to build its first 50,000 backhoes. After 70 years it has now made more than 900,000 across factories in the UK, India and Brazil.
JCB chairman Lord Bamford said: "The backhoe loader is an incredibly versatile machine and thanks to continued innovation and evolution, it remains just as relevant today as the day it was first invented. The JCB backhoe loader remains one of the most popular pieces of construction equipment in the world and it has a very exciting future ahead of it."
The Platinum Edition models will have servo excavator controls, Powerslide, air conditioning and bi-directional auxiliary flow hydraulics. The machines will bear limited edition Platinum decals and grille badge. They will have platinum-coloured wheels, while in the cab there will be an embroidered graphic in the carpet and upgraded seat material with 70th anniversary branding, along with a steering wheel centre cap featuring the 70th logo.
Here are some images from the JCB archives, starting with a specifiction sheet fron 1953 for JCB's first backhoe loader, the JCB MK 1 excavator.

In 1957 the JCB Hydra-Digga was advertised as being able to dig through rock.
Here is the classic the JCB 3C in 1963.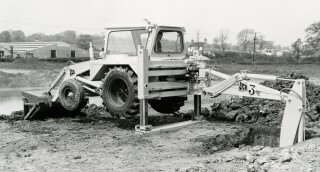 This is the JCB MkII 3C at work in Bolivia in 1972.
And finally, the 4CX Sitemaster, launched in 1991.