Rob was out for a game of golf recently at the Fingle Glen golf course near to Exeter, and as he pulled into the car park, there was the old Poclain 61 parked up. Rob said "I have no idea what the machine had been doing there, but I was delighted to see it as I used to operate one of those classic French models back in the day and although they were a bit slow and cumbersome by today's standards, I quite liked the old girl and spent many an hour in her during our time together "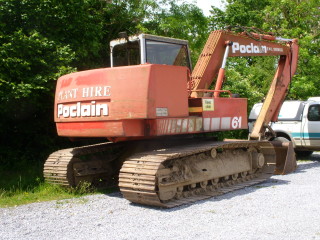 The Poclain 61P and CK models were first launched in 1985, and a year later the familiar red and grey colours were replaced with the tan and brown Case-Poclain livery. During the next couple of years, these machines were further developed and went on to become the Case 88 series of machines. The Poclain name eventually disappeared forever in 1999, when all machines started to be branded as Case.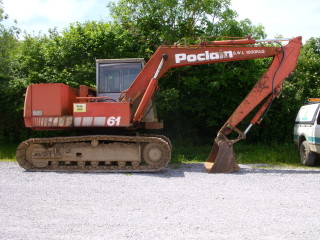 Rob said,"I, like many of my friends in the plant game, really enjoy the Digger Blog and I have been wanting to send some photos in for a long time, but never got around to it; in fact seeing other readers photos is one of my favourite features on the blog. The fact that Digger is written by a real operator is what gives it that special appeal to many of us, keep up the good work Nick!"
I would like to take this opportunity to thank Rob for his kind words, and I hope you will enjoy the Digger Blog for many years to come.