In amongst all the new innovations and latest models of earthmoving machinery on show in Paris, a small stand featuring old classic machines was attracting massive attention. Our online editor Will Mann, who was accompanying me on the tour around the show, looked slightly bemused with my enthusiastic reaction to the old red and white machines. But in their day, some of these machines were indeed at the cutting edge of technology.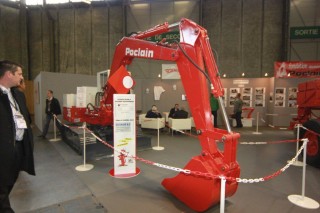 The exhibition was staged by an association called Generation Deux, that was established in 1989 by a group of former Poclain employees. Today the association is actively involved in preserving the memory of Poclain, the famous French company, who at one time were the world leaders in the design and manufacture of public works equipment and in particular hydraulic excavators.
Generation Deux have a large selection of old Poclain models, many of which are owned by association members and which have been saved from a date with the "gas axe" at scrap metal yards around the world. A small selection of these machine's were on show at Intermat.
One of the company's earliest models was the Poclain TU, which was a limited slew, tractor towed excavator, which was powered from the tractors PTO and weighed around 6,400lbs. These machines were produced at the company's Le Plessis-Belleville factory from 1951 until 1958.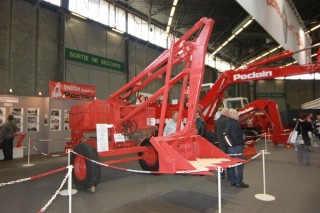 One of the company's most famous machines was missing from the event. The TY45, which was its first full-slew model and went on to become a best seller around the world.
Next machine in the line-up in Paris was an unusual face shovel version of the popular Poclain 60CL model. These machines were produced in the company's Crepy-en-Valois factory from 1976 to 1982. They were powered by a 62.1 hp Deutz F4L912 air cooled engine. These machines were marketed aggresively in the UK market in the late 70's and early 80's and they seemed to be on every site I worked on back in those days! I spent some time on a conventional backhoe version in the early 80's and at the time they were way ahead of anything else on the market.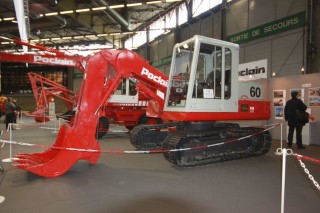 Back in 1981 the company also entered the mini excavator market, with the 35CK, an 11,000lb machine c/w dozer blade, the machine which I believe was affectionately known as "The Little Ant" was powered by a 37.5hp Mercedes OM615 engine, and had a bucket capacity of ¼ yd3. These machines were built at the company's Spanish facility in Saragossa, from 1981 until 1985.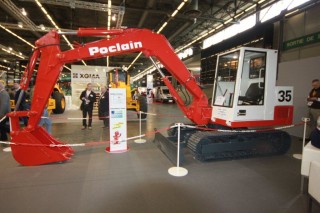 Next up was this fine example of a European favourite, the Poclain 81P wheeled excavator (rubber duck), which was manufactured in Crepy-en Valois from 1986 to 1989. This model was powered by an 84.8 hp Case 4T390 engine. The Case influence was becoming ever more prominent by this time, and these models went on to become the core foundation for the Case 88 series in later years.
The final machine on display was indeed a rare model. Manufactured between 1972 and 1974, the CMC (Constructions Mecaniques de Carvin) C11 was a hydrostatically driven, rear engined tracked loading shovel, that was way ahead of its time. The machine was powered by a Deutz F6L912 engine, which is the same motor that was fitted in the 60CL, but with a rated power output of 106.5hp. It had a top travel speed of 6.85 mph and a bucket capacity of 1 ¾ yd3.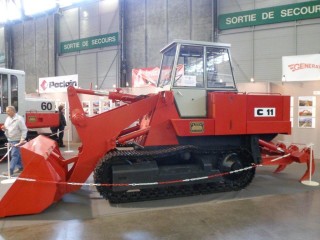 This machine and a larger C21 model were primarily designed by CMC but the company had limited production facilities and as such they approached Poclain to assist in manufacture of the models. The machines were fitted with Poclain hydraulics, motors and other components. Production figures are rather sketchy, but I believe no more than 50 models were ever produced.
A really great display from the team of Generation Deux, and it was an absolute pleasure to meet the vice president Mr Philippe Fritz, who is kindly helping the Digger Blog out with the identification of another rare Poclain that has been discovered in Sweden, by our friend and regular Swedish contributor Robert Carlsson.