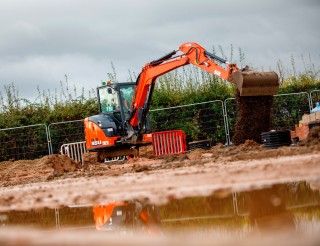 Hitachi Zaxis-6 mini and compact excavators were launched at Bauma in April 2019.
JLG Groundworks bought a five-tonne ZX55U-6 mini from Hitachi Construction Machinery (UK) following positive experiences with its mid-sized Hitachi excavators.
The latest addition to its fleet is working on a housing development for Seddon Construction in Powick on the outskirts of Worcester. It is excavating the area around the properties for internal and external drainage, and then backfilling after the work has been completed. With its compact dimensions, it is good for working in tight spots like this.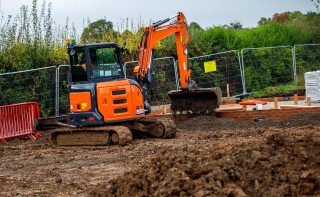 "This is the first Zaxis-6 mini excavator we have purchased," says JLG owner Jason Griffiths, who started the business in 2012. "We thought we'd try out the latest model, because the operators love using Hitachi machines already. It's very fuel-efficient and compact for working in confined spaces."

Operator Ben Bryan has also been impressed by the ZX55U-6. "It's versatile and very responsive," he says. "That's the beauty of having the new machine – it's powerful for a five-tonne excavator."
He's a fan of the Japanese machines anyway. "Of all the machines I've driven over the years, there's no comparison with Hitachi," he says. "They're reliable and never age."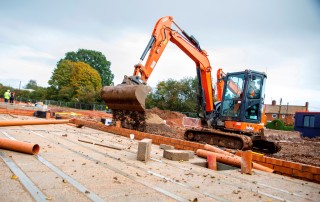 JLG has also taken ownership of a new 21-tonne Hitachi excavator, its fifth machine in this size class. It is working on site preparations for a retail park in Dudley.