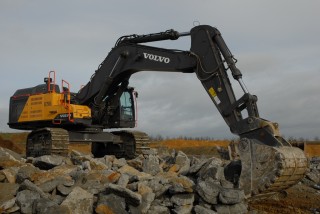 Earthline, based in the small Wiltshire town of Ogbourne St George, near Marlborough, is one of the largest haulage company in its region, covering an area from Banbury in Oxfordshire to Farnham in Surrey.
It has a fleet of 80 tipper lorries with another 20 on permanent hire besides articulated rigs, sweepers and other miscellaneous transport. It is also in earthmoving, recycling and quarrying.
"In essence the equipment, quarries, and recycling sites are there to feed our haulage fleet delivering virgin and recycled product across the region," says managing director Philip Coplestone.
It's a family business, run by brothers Philip and Matt Coplestone, who represent the second generation at the 23rd year old business.
For its quarrying operations, Earthline has recently taken delivery of a 75-tonne EC750E, Volvo's flagship excavator (pitcured above), together with a 25-tonne L150H, its first ever Volvo loading shovel (below).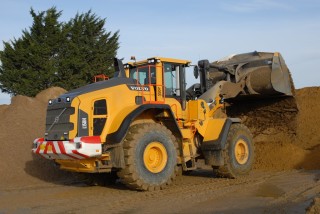 These machines join an increasing fleet of Volvo branded machines at the company. Philip Coplestone says the choice of Volvo is down to reliability, performance and robustness of the product.
"This time around we needed to replace our EC700C with a new large prime mover and considered the EC750E to be the right machine for our application," he says, "but we also decided to opt for a new Volvo loading shovel for the first time based on the good experience we've had to date with our other Volvo machines and following a successful demonstration."
The new EC750E has been supplied in mass excavation configuration which includes a 6.6 metre boom and a 2.9 metre dipper arm along with a Tefra mix and match quick attachment bracket. This gives the machine a maximum reach of 11.4 metres and a dig depth of 7.2 metres.

The EC750E has a maximum breakout force of 383 kN and can lift 13.6 tonnes at maximum reach. It is being used at Earthline's Hatford Quarry near Wantage to rip limestone from situ using a heavy duty ripper tooth and a bespoke 4m³ heavy-duty rock bucket supplied by MST.
Just a mile away at Shellingford Quarry, the L150H loading shovel has been specified with a 4.5m³ rehandling bucket along with an optional rehandling counterweight, Bridgestone VSDL tyres and an RDS Aplha 100 Loadmaster weighing device. In this configuration the L150H offers a dump clearance of 2.97 metres and a full turn tipping load of 17.8 tonnes. The machine was selected after a successful demonstration at the Shellingford site and will be used for a range of activities from load and carry to material blending and loading out lorries.
"We are looking to increase the size of our equipment in general to keep in step with demand and our new L150H is a step up from the machine it replaces with its large capacity rehandling bucket," says Philip Coplestone. "The machine has been an immediate hit with our operators too who certainly appreciate the cab layout, smoothness of control and ride and responsiveness."
Earthline is not the only quarry operator to buy a new Volvo loading shovel recently. Patersons Quarries has opted for a 19-tonne L110H (above) for its Burrowine Moor Quarry, at Bogside near Alloa.
It has been supplied with such optional extras as boom suspension/ride control to reduce load spillage when driving, a Groeneveld automatic greasing system, an Ogden Sensor Vision reversing aid, a hydraulic attachment bracket and a 3.3.m³ heavy-duty general purpose bucket.
Its main task at the Burrowine Moor facility is loading extracted sand into a receiving hopper for the washing and screening process. It also helps out with stock piling, cleaning out and occasional truck loading when required.