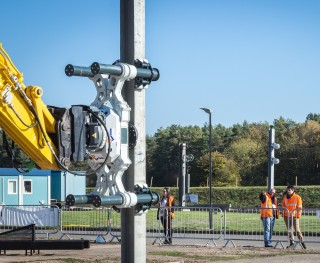 The Articulator 5000 can manipulate, manoeuvre and rotate sections, poles, masts and posts up to 20 metres long and 500 kg in weight. It has four adjustable feet and telescopic legs to cope with different types of loads, including tapered or of varying diameters.
Target applications include railway contractors in particular and Rail Alliance headquarters in Stratford-upon-Avon hosted a demonstration last month.
Network Rail's Wayne Burnett declared himself "well impressed". He said: "Everything it was doing and all the types of materials it was picking up was superb. Our outside parties will introduce this piece of equipment hopefully. I'm very pleased. This is going to eliminate the situation of people being in harm's way. The way it was gripping all of the materials – as far as I'm concerned it's a brilliant idea."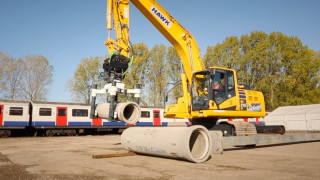 James Ward of Colas Rail said: "It's a unique product in terms of attachments. We're looking to use if for installation of our OLE steelworks."
JN Bentley's Alan King said: "The main reason for us to look at the Articulator was for pipework and how it could improve the safety of the installation of pipes into the ground and obviously take men away from the trench…. Big health and safety aspects which for everything it's ticking the boxes on so far."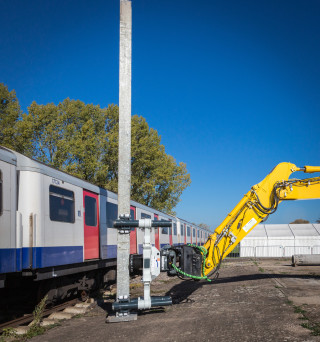 The patent-pending Articulator 5000 is designed for mounting on excavators or road rail vehicles of 14 tonnes and above. Sandhurst is also planning a version for installation on truck-mounted cranes.
The price for the Articulator 5000 is £38,000.00 + VAT. Delivery times of 12 weeks are currently quoted.