Walking up the hill from our hotel, I suddenly became aware of a familiar noise approaching from behind. As I turned around I was pleasantly surprised to see this little Caterpillar 226 skid steer, which was owned and operated by the local authority, Playa Jandia SA, trundling up the road. The 680kg Cat 226 is powered by Cats own 42kw C2.2T engine and this model, which was unusually fitted with a Cat BH27 backhoe, is not something you see every day. The backhoe is just one example from a whole range of work tool attachments offered on the skid steer and compact tracked loader range from Caterpillar.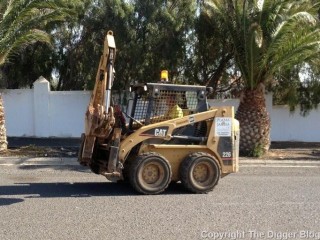 Further on down the road, I was taking a short cut across some wasteland, when I spotted what I initially thought was a JCB 1CX in the distance. It was a bit out of my way, but curiosity got the better of me and I decided to take a closer look. When I arrived at the machine, I quickly realised that it was in fact an Italian built Venieri VF 1.33, and I have to say this was the first time I had actually seen one in the metal.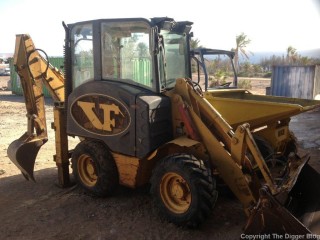 The Venieri VF 1.33 looks a handy piece of kit, and uses well proven components such as a 4 cylinder Perkins Turbo engine and a Bosch Rexroth hydrostatic transmission. The machine also features 4 wheel drive and steer, making it incredibly manoeuvrable in tight spots. The machine is also equipped with a 4 in 1 front loader bucket, which can also be replaced with a fork carriage, and the mini backhoe which can attain a dig depth of 2.75 metres in conventional form, as is fitted on this machine, or it can be supplied with an extending arm which will give you a dig depth of 3.25 metres. A superb little machine for the small jobbing builder, landscape gardener, and utility works companies.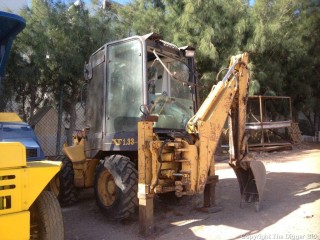 Parked next to the Venieri was an unusual dumper called a UROMAC V-1500 or URO for short, which is of Spanish origin. My first impression of the little dumper was that it was a bit of a 1960's throwback in design terms, with its front wheel drive, rear wheel steer setup and the operator's seat mounted on the left hand side, but like most things, I am sure there is still a market for such a crude looking machine or the manufacturer would not still be in business. Looking on the company's website I notice that this is the smallest dumper in an 8 model range, and they also make specialist variants for the rail industry as well.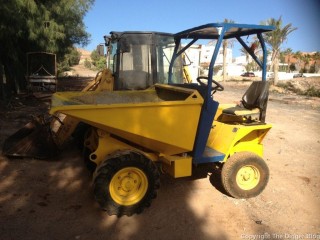 I have to say this year Fuerteventura was the quietest I have ever seen it in terms of heavy plant and machinery being used, another sign of the tough economic times we are all facing globally at the moment. Let's hope 2013 brings better times for all of us.