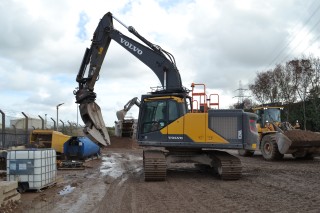 Parkway Recycling, just off the M6 in Birmingham, recycles concrete, hard core, brick and utility arisings. It is owned and run by Paul McGowan, who also operates Paul McGowan Grab Hire, offering contract grab and tipping and muck away services.
Between the two companies he operates more than 100 vehicles, with 45 grab and tipper lorries on the road, three crushers and two loading shovels working in the yard, along with various other excavators and pieces of equipment.
Having bought his first lorry back in 1996, when he was just 26, Paul McGowan Grab Hire was founded in 2006. Parkway Recycling followed in 2014, which is when the businesses moved into their current premises at Bromford Lane.
The Parkway recycling facility is a hive of activity, with wagons continually entering through the weighbridge to tip their loads. Loading shovels move material from the end of the crusher belts to stock pile fresh aggregates or to load wagons for delivery back out to construction sites. Parkway Recycling sees 250,000 to 300,000 tonnes of waste making its way through its facility each year.
Instrumental in the efficiency of the operation is the OilQuick automatic quick coupler system fitted onto Volvo EC250 EL tracked excavators. Having fitted the first machine with OilQuick in spring 2018, they added a further system to a second machine later in the year and now have a third on order.

The OilQuick system was supplied by ECY Haulmark, which sees most of its business coming from demolition contractors rather than waste handlers. But Paul McGowan saw the potential. Incoming concrete waste tends to contain rebar, which needs separating before being fed into the crusher. Oversized material needs breaking into smaller pieces. Thus various hydraulic attachments are used to process incoming waste before it is crushed. Typically, it would take 20 or 30 minutes for the operator to manually change on attachment for another.
The OilQuick system means hydraulic work tools are changed by the operator from inside the cab in as little as 15 or 20 seconds. And the operator stays in the machine, he does not have to handle hydraulic hoses, so the threat of oil spills and burst hoses is eliminated. He is also insulated from the other usual hazards of a busy working yard.
Paul McGowan says: "We found after installing the OilQuick system to the machine, productivity immediately went up as the operator no longer needed to leave the machine to change the hydraulic attachment manually. It is also much safer for the operator not having to leave the machine in such a busy environment and now they always use the right attachment for the job, where previously the may have tried to get by with the wrong tool rather than get out and change it, which left the attachments open to abuse."