This old excavator is currently lying in Amoyveien, Austre Amoy, in Rogaland, Norway, and is what I believe to be a Broyt X2, which was first introduced in 1958 as an upgrade for the existing X1 model, which was the company's first hydraulic excavator when it was introduced in 1956. Incredibly, this old machine, which is fitted with a Perkins engine, is still a runner and according to Ian is still used on a regular basis!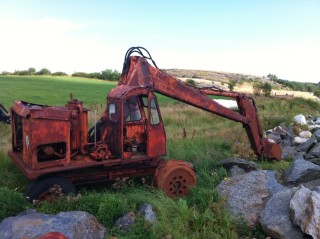 As reported here on the Digger Blog before, these machines were incredibly simple in their design, with no drive components within the undercarriage, the machines were simply towed around from job to job behind a truck or tractor. Once on site, the machines would just move around under their own power using the bucket and dipper arm to pull or push themselves about.

How many of us can imagine spending a full shift at the controls in a cab like this? It really does make one appreciate all the creature comforts that we all take for granted in modern machines today.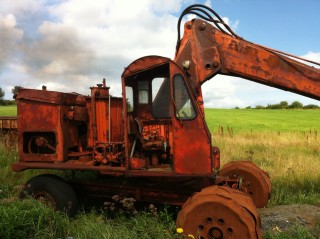 Maybe it was this simplicity that has helped to keep so many going around the world and especially in the Scandinavian countries. Another great find by one of our readers and we thank Ian for sharing these shots with us.