Sanderson Forklifts Ltd, were based at Croft, nr Skegness, in Lincolnshire and at one time were one of the country's leading manufacturers of rough terrain forklifts and telescopic handlers. My first engagement with the Sanderson products came when I was a young lad working for Wimpey Plant in 1977, but some of the company's earliest forklifts were mounted onto the back end of various tractors like this example fitted to a Massey Ferguson 675.
During my early days with Wimpey's, I was often sent out as a relief driver on Sanderson forklifts. Wimpey's were a massive customer of these British built machines and Department 23 (Southampton), had a large number of SB55TC models in the field, they were based on a Ford tractor unit and featured a Ford 3 cylinder engine.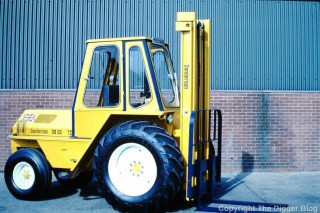 Towards the latter stages of my time with Wimpey Plant, the SB55TC's were gradually being replaced by the larger newer model the Sanderson SB70TC. These machines were a vast improvement on the outgoing 55's, with the large central lift ram having been replaced by two lifts rams mounted on the back of the lift frame, which gave a massive improvement in terms of forward vision.
The SB70TC, once again based around a Ford tractor unit, was a heavier and more powerful machine, which if memory serves me right, now featured a 4 cylinder engine. It was also more modern in its styling, and with its improved all round visibility made it a far more pleasurable machine to operate. The models shown here lined up here outside the factory were all destined for Wimpey Plant depots around the UK, where they would invariably be fitted with Wimpey's patented scissor extended fork set up, which were an innovation in the days before telescopic handlers came along.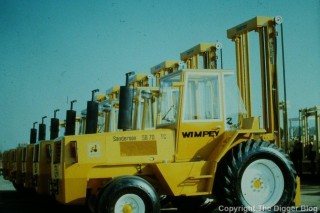 Sanderson Forklifts were gained Royal approval with a Queen's award, and in this shot we can see Roy Sanderson receiving the award from Her Majesty the Queen in recognition of the company's services to industry.

The company was also one of the forerunners in the telescopic handler market, not forgetting that the Liner Giraffe had been the first example, when they launched their Teleporter range starting out with the 247, which offered a 7 metre forward reach.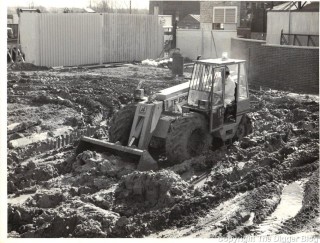 Later models took on a more modern look with this Teleporter 2, designated the 725, being a fine example from the range.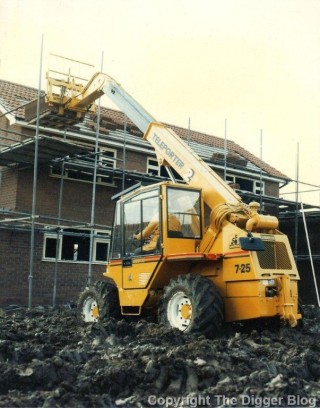 Not one to sit on his laurels, Roy Sanderson looked to expand his company, and to add other machine lines to the company's portfolio, and by 1984 they had taken over the failed Priestman excavator business from its then parent company Acrow. A few years later they also purchased long time UK dumper and mixer manufacturer Winget, a name synonymous with such machines for as long as I can remember. In a relatively short space of time the company was suddenly in a position to offer a comprehensive range of equipment to the construction and material handling industries as this promotional product range shot shows.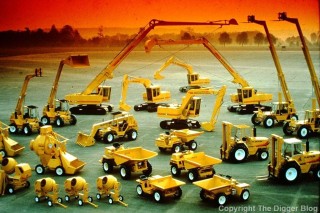 The addition of the Priestman excavator range also gave the company the rights to the revolutionary VC line of excavators, one example being the VC20 which is seen here being demonstrated in conjunction with a Winget dumper, at one of the SED events held in Whipsnade.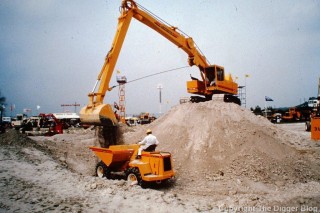 Sadly by the end of 1990 Sanderson Forklifts Ltd was in financial trouble and were later forced into administration, before finally being folded. A sad end for yet another great British company.