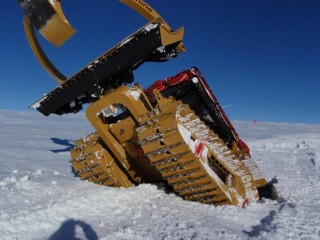 Only now that they are all safely out of there can these hairy photos be shown. The fear was that the families of the crew would not be able to sleep for worry if they saw the hazards being faced down there.
To quote from the project's Facebook page: " It is testament to the team of engineers at Finning that no-one was hurt during the expedition - or any Cats lost. The machines had undergone numerous specialised modifications, such as the crevasse arm and escape hatch, which helped to ensure that after falling into a crevasse, that the boys were safe and could exit the machine without being put in any unnecessary risk. As well as that, both D6Ns were modified to ensure that if one did fall into a crevasse, as you can see here, the other machine could recover the 'fallen' machine safely. Under no circumstances could a machine be left in a crevasse! Each time this occurred the Ice Team worked wonders with the assistance of the support of specially trained Finning Cat engineers in the UK."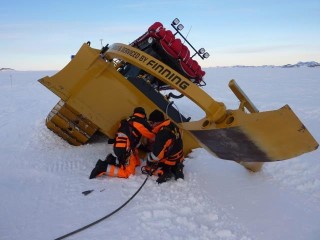 They add: "If you think these pictures look scary, imagine them in the dark…"
The team of Brian Newham and his colleagues Ian Prickett, Dr Robert Lambert, Richmond Dykes and Spencer Smirl arrived in Cape Town last Thursday 21st November.
Tomorrow morning – Tuesday 26th November, the Ice Team will be available for a Q&A session live on Camup.com. All you will need is a webcam and an internet connection to watch the web streaming event available to our followers all over the world. They will be joined by Sir Ranulph Fiennes, the original project leader who was forced to bail out on medical grounds early on.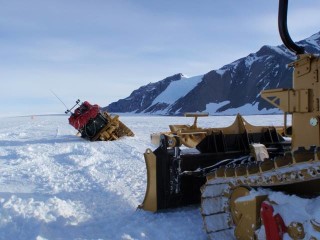 Though The Coldest Journey failed in its attempt to cross Antarctica in winter (all 4,000km of it), they did manage to carry out research work and collect data commissioned by scientific institutions from around the world which, among other things. They are the first team ever to camp throughout the Antarctic winter in the permanent darkness and temperatures as low as -60⁰ C. And, they achieved one of the longest Antarctic journeys in winter. In addition, through their association with the international charity Seeing is Believing, which is committed to eradicating avoidable blindness in the developing world, the expedition has raised funds which are being matched dollar for dollar by Standard Chartered Bank.