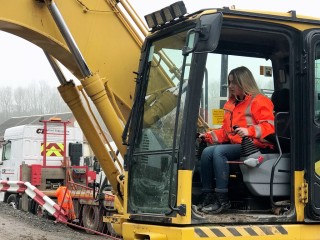 Pictured above is 16-year-old Leia, CR Civils newest apprentice plant operator.
Leia met the company when it visited her school careers fair at East Leake Academy and immediately expressed an interest in plant machinery. She was so eager to have a go that she got herself four days of work experience as a plant operator at the CR Civils yard in Ripley, Derbyshire.
During her brief work experience, she was able to operate excavators from 5 tonnes up to 18 tonnes and also sat in on an internal health & safety course to get an insight into what goes on behind the scenes of operating plant.
Plant Manager Dean Thomas says: "I think she did really well; she showed a great aptitude for operating the equipment and picked it up quite quickly - she didn't want to go back to school! It is really exciting to see young people learning more about careers in construction and it is also nice to see that women are venturing into a male-dominated industry."
The company has evidently developed great relations with the school. East Leake's year nine BTEC Engineering students were also given the opportunity to have a digger day at the Ripley yard. Their day involved having a full site safety inspection, with general health & safety awareness, fire regulations and abrasive wheels training. Under strict supervision, the students were given a chance to have a go on a digger and view the different types of plant machinery used on a construction site.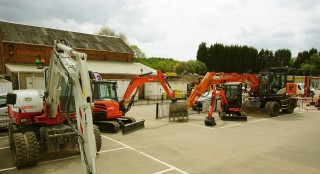 It yet another initiative CR Civil Engineering set an engineering challenge" to the East Leake Academy's year eight Maths Department. The challenge was based on one of the contractor's projects at Market Harborough – building a 300-space car park and access road. The students were challenged to calculate the number of loads of muck, aggregates and asphalt needed to build the car park. They were given information such as the depth of each layer of material, the area of the car park, the weight of each material and how much material/waste each type of truck can carry.
The students were then shown before and after videos of Market Harborough and footage showing the trucks delivering materials, which was the work the students had to complete. They could see, therefore, how a classroom exercise had real life relevance. And according to the folk at CR Civils, the Q&A session that followed revealed a heartening enthusiasm for the industry among the students. In the East Midlands, at least, the future looks bright. How is it round your way?