Compagnia Italiana Construzioni (CIC), which is carrying out the upgrade of the Terminal, chose the ZX52U-3 due to its reliability, reach and compact size. The prompt delivery of the machine to the site was also a significant factor.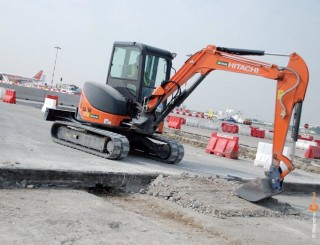 The mini excavator has been rented to CIC by Italy's official Hitachi Construction Machinery (Europe) NV (HCME) dealer, SCAI. It is being used to dig trenches, install utilities, load materials on to trucks and carry out the final landscaping.
SCAI Salesman Giorgio Serati says: "The mini has a number of key benefits, including the fact that it is extremely quiet, both outside and inside the cab. Its boom and arm allow for deep excavation work and it is able to load materials to a height of up to four metres.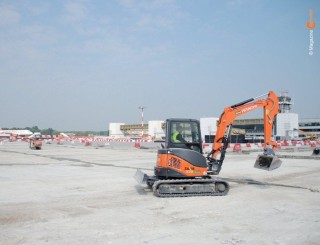 "From the operator's point of view, the ZX52U-3 is great to use. The cab is fully air-conditioned and is well proportioned, despite the machine's relatively compact size. It is comfortable to use and the undercarriage provides superb stability. The bucket can also be changed quickly thanks to the functionality available inside the cab."
CIC was founded in 1929 andnow specialises in the civil and industrial construction and infrastructure sectors. It works on a wide range of complex projects, including: highways, runways and racing tracks; bridges; residential and industrial water treatment plants; sewerage and landfill systems; and the management of aggregate recycling facilities and composting plants.