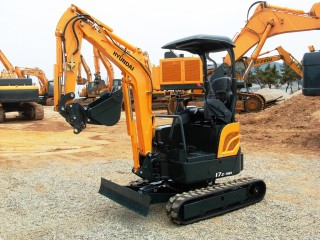 This 17Z-9A is set to replace the 16-9 as the smallest mini-excavator in Hyundai range.
The photo was taken during a visit to the factory in Korea. Our correspondent reports that mass production of the final product is likely to begin in Korea as soon as next month, with an introduction to the UK market in December. "Could shake the mini market up a bit," our man predicts.
At 1700kg, the new machine comes in just 50kg heavier than the predecessor model (which is pictured below).