These top quality access systems are currently made in Australia, but are modified and fitted by the Custom Solutions team at Finning. The electro-hydraulic ladder retracts and folds away high above the ground and within the confines of the machine ensuring that there is no risk of damage to the ladder. A lock out system ensures that the machine cannot be operated whilst the ladder is in its down position.

A very useful addition to machines of this size, especially for operators like me, who are vertically challenged!! The systems can be fitted to a whole host of other machines including dozers, wheeled loaders, dumptrucks and motor scrapers to name a few. Here we see another ladder system fitted to a smaller 345D LME excavator.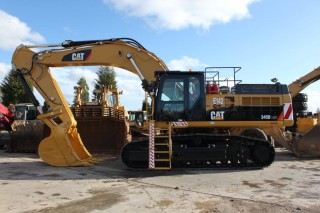 The team at Finning Custom Solutions, can adapt a system to fit most machines and can undertake all design, modification, and fitment from start to finish.