Big Case customers, Steve Hoskin Construction Ltd, from Liskeard in Cornwall, are bucking the current downturn with a large workload and are continuing to invest in new kit to help cope with the demand.
The latest machine to be delivered is a Case CX130B, which has been supplied by local Case dealership, M&M Plant Sales.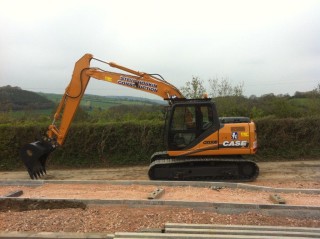 The lucky recipient of this new machine is young operator Joe Foster-Eaton, and the machine has gone straight to work on a David Wilson Homes site in Chudleigh, Devon. Joe has been operating an earlier CX130 model which has racked up 4789 hours on the meter.
21 year old Joe is one of a growing number of "young gun" operators that are currently working for the company, many of which have been trained at the company's own training facility. This superb training initiative is an excellent way to bring on the next generation of machine operators, as many businesses are finding it hard to source experienced operators as the older members of staff retire.

We asked Joe for his initial thoughts on his new machine, "I found the CX130B to have excellent stability with the new longer track frame, as the earlier models were prone to rocking with the shorter tracks especially when working on tarmac. I also love the all round visibility which beats the old model hands down."
Joe also commented, "Both I and the lads on the ground appreciate the reduced engine noise on these new models, which is a big help when working in close proximity of the ground-force." Joe joked that "the lads also enjoy being able to listen to the radio as well!"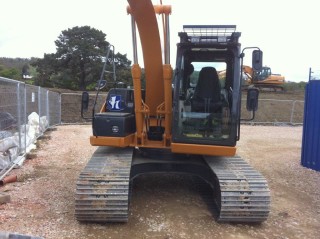 Joes old machine will live out its life at the company's training facility and assist in bringing on more fully trained operators.