There has been much talk around the internet machinery forum circuit, and in industry magazines, that JCB were developing some form of historical museum type of attraction within the grounds of the factory in Uttoxeter. On Monday the doors were officially opened to a select number of visitors, and I was one of those very lucky people who were among some of the first to see it.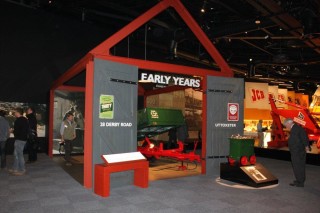 "The Story of JCB" is a unique and permanent exhibition which has been developed over the past year, which charts the company's links to industry right back to the 1820's. The company has invested £5 million in the development of this new customer experience centre and it is sure to play a role in winning new business, particularly in emerging markets where background knowledge of JCB's heritage is possibly not so well known.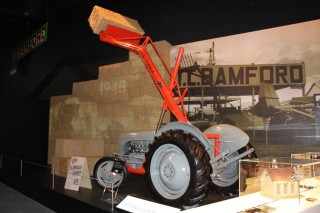 Sir Anthony Bamford commented on the opening of the new facility "This is an extremely exciting development. It is the first time that the history of our company and my family's roots in manufacturing has been told in the form of a permanent exhibition.
"We are an innovative company and our success over the past 66 years has been driven by innovation and that is at the very core of 'The Story of JCB.' It is a showcase of our unique story and something we can all be very proud of"
The exhibition covers some 2,500m2 of floorspace above the existing VIP visitors centre, and takes the visitor on a journey through time, starting in the 1820's, when the Bamford family were blacksmiths in Uttoxeter, and culminates with today's modern JCB ECO range of fuel saving machines.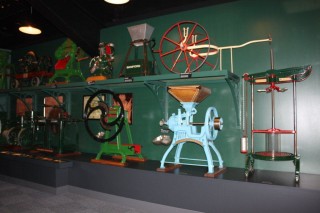 On entering the exhibition visitors are treated to a selection of agricultural machinery which were manufactured by Bamfords Ltd, our tour guide for the afternoon related the story of how the Director of Bamfords Ltd, Henry Bamford famously sacked his young nephew Joseph Cyril Bamford by sending him a note that "his services would no longer be required."

In this area there is also a replica of the old garage where the JCB story began, and inside is one of his first products a hydraulic tipping trailer from 1948.
Moving on through the exhibition, visitors are treated to a circa 1953 model, JCB Si-draulic loader arm fitted to a Ferguson tractor, which as you can see would have only cost £75 in those days. In some ways this old design has come full circle with the single loader arm style which is now seen on the latest JCB skid steer and tracked skid steer models.
To the right of this exhibit are two more famous models from JCB's past portfolio; a 1953 JCB Mk 1 backhoe loader based on a Fordson tractor unit, and a 1961 JCB 3 backhoe loader which was to revolutionise the industry, with its 180 degree sideshift backhoe enabling builders to work hard up against a wall for the first time, and its ability to dig perfectly square holes up to three metres deep.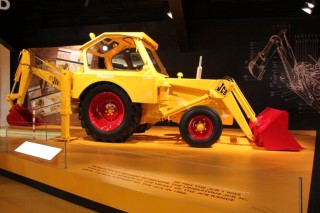 Another highlight for me was this stunningly presented JCB 3C III, which was built in 1979 and takes centre stage in the early stages of the exhibition. This machine serial number 141504 was one of the last 3C Mk 3 machines to be assembled at Rocester.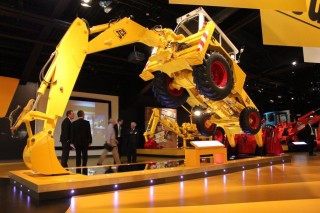 I have a soft spot for this model as I actually drove a brand new 3C Mk 3 1979 model registration number AYY 450T, which was my first ever "own" machine when I was working for George Wimpey out of department 23 (Southampton) around the same year. I think that machine was slightly older than this model and featured the Borg Warner transmission.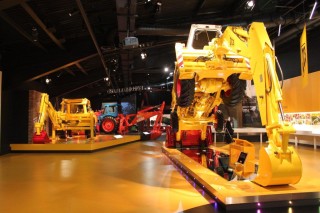 In part two we will continue our journey through this amazing exhibition and also announce details of a new Digger Blog win a JCB model competition.