Delivered in October 2017, the Hitachi ZX300LC-6 special application machine has been selected by Küper Transport to create the correct mixture of materials.
The first stage of the process involves building a stockpile – 200-metres long, 28-metres wide and half a metre high – containing different materials such as various types of clay, lava rock and sand that are delivered by truck. The super long front's 15-metre reach is used to scrape and flatten each load into an even layer. Once all of the layers have been prepared, the ZX300LC-6 is then engaged to mix the various types of material to the specification required by Wienerberger to make the bricks.
Moving from one side of the 28-metre-wide stockpile to the other, operator Davey Heimen takes five to 10 cm from each layer. He scrapes down from the top to the bottom of the pile, before pulling the mixture towards the super long front machine. The bucket is then emptied at an angle to the right of the excavator, so that its tracks can flatten the materials and complete the cycle as it continues to repeat the process and move across the face of the pile.
Küper Transport has been working at the Wienerberger brick factory for more than 40 years and has owned Hitachi machines for 32 years. "Hitachi produces a great excavator with a strong quality/price ratio," says owner Remaldo Küper, whose grandfather founded the business in 1938. "In my opinion, anything engineered and manufactured in Japan is perfect, especially when supported by [Hitachi's] excellent maintenance and service here in the Netherlands."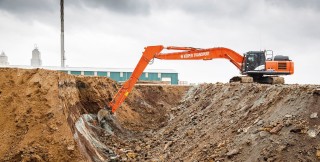 Mr Küper says that the primary decision-making criteria for the long reach machine were brand, price and quality. "We considered three machines on this occasion but we were immediately impressed by Hitachi's in-house solution and the lifting capacity of the 15-metre-reach model," he says.

"We previously used a conventional machine for this project, but some of the materials had to be dug twice as much, which cost us more time, fuel and therefore money. By comparison, we are now able to save 15 litres per hour and complete our normal cycle 30% faster than before.
"The ZX300LC-6 is the perfect machine for this job. It is stable in these challenging conditions, compact and light, so it's easy to transport and doesn't sink into the ground. Hitachi also has a technical advantage over the other brands. The TRIAS II hydraulic system means that only one of the three pumps is used for the swing mechanism. So, when the machine is swinging and lifting, there is no decrease in capacity."
Operator Davey Heimen is also impressed by the new machine: "It's very smooth and stable, and handles well. This is especially the case when flattening and grading the layers of materials at full reach.
"It's also faster to complete this task as I can position the machine further back from where the trucks dump the materials than a conventional machine. In addition, I can stay in the same place throughout, because everything I need to do is achievable in one movement."
"The cab is very comfortable with a heated seat, climate control and an excellent all-round view, which is so important for the precise work that I do. I am also able to save one hour per day with the Hitachi super long front when scraping and mixing the materials."